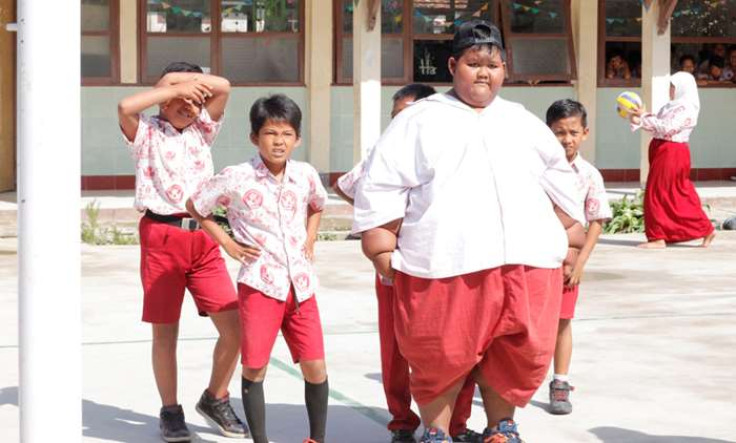 Tonight's (1 June) episode of Extraordinary People follows the story of 11-year-old Arya Permana from West Java, Indonesia, who weighs in at a whopping 30 stone – nearly three times that of the average man.
He has become world famous as the heaviest boy on record which has brought him considerable financial benefits. But putting money and fame aside, the dark reality of being morbidly obese is catching up with Arya as he faces becoming housebound due to his flailing health issues. Weighing the same as six boys his age put together, Arya struggles to walk for more than five minutes.
His parents Ade and Rokayah Soemantri soon realise that they must seek medical help for their son, but whether the doctors' tests get to the root cause of his extreme weight gain remains to be seen.
In a bid to save his life, Arya has shed five stone after becoming the youngest person to ever undergo a gastric sleeve operation. Doctors performed the five-hour operation after telling him and his family that his condition was going to kill him.
After years of feeding him, Arya's parents took him to the Omni hospital in Jakarta, Arya, where the extensive surgery was performed by Dr Handi-Wing and saw a large portion of his stomach removed. Making his stomach banana-shaped, the surgery aim was to curb Arya's appetite and making him feel fuller for longer.
Arya's condition has been dubbed "one of the toughest cases of obesity in the world", and after enduring the health-scare, the child has since lost a commendable five stone. He is expected to lose close to 15 stone in one year to regain his health. Born at a healthy 8.3lbs, Arya did not start gaining weight until he was five.
What did Arya's former diet consist of?
The 11-year-old was used to devouring a daily diet of six meals including fried chicken, rice, noodles and chocolate ice cream. His parents continued to feed him high-fat junk food including greasy curries while he gained more weight throughout his childhood.
Ade said: "He ate like he had no sense of being full. Every time he had two packets of noodles and two eggs. More than half a kilo of chicken and then there was rice. This could be four to six times a day.
"The saddest thing was watching Arya try to get up. He would get out of breath just walking five metres. We were very worried."
Rokayah said: "I am the one the most to blame. I regret it because it's my fault. I didn't control how much I fed him. I keep feeding Arya because I love my child."
Extraordinary People airs at 10pm on Channel 5 tonight (1 June).