A Japanese firm has announced plans to construct the world's tallest wooden building, a 70-storey skyscraper in Tokyo that aims to turn "cities into forests".
Sumitomo Forestry, a building and biomass energy business, plans to build the 350-metre (1,148-foo)t high W350 Project by 2041, which also marks the company's 350<sup>th anniversary. It will be the second tallest skyscraper in Japan's capital.
The building's exterior will be 90% made from wood, which will surround a steel frame for strength. The interior of the structure will also be constructed from pure wood.
The firm said the aim of the tower was to create "an environmentally-friendly" high-rise that would contribute to "making over cities as forests".
It added: "Such buildings create a comfortable environment for both plants and living organisms, providing a pleasant space for the people living there and in the surrounding city."
The skyscraper will house shops, offices, a hotel and residential units. The structure will require more than 6.5 million cubic feet of wood at an overall estimated cost of Y600bn (£4.02bn).
Sumitomo Forestry said balconies will surround all four sides of the building, which will be covered by plants and other greenery.
The tower, to be built in a joint venture with Japanese architecture firm Nikken Sekkei, will be located near Tokyo Station, in the city's heavily built-up Marounouchi financial district.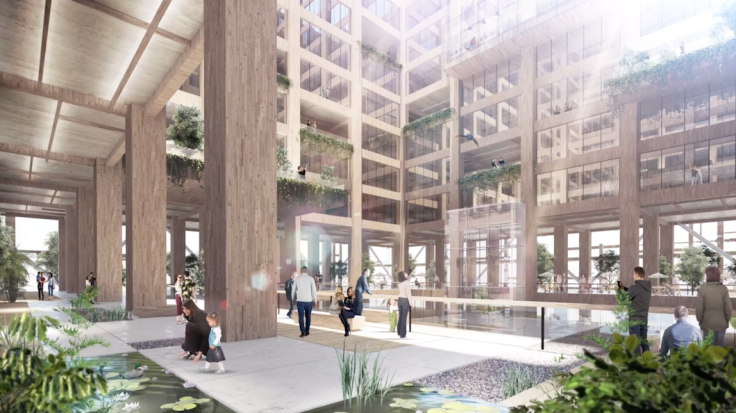 The current record for the world's tallest predominantly wood structure is held by Brock Commons Tallwood House, a 174ft-high student accommodation opened at the University of British Columbia in Vancouver last autumn.
Sumitomo Forestry is part of Sumitomo Corporation, one of Japan's largest business conglomerates. The group, founded in 1615 by Masatomo Sumitomo, a former Buddhist monk, straddles everything from banking to cement manufacturing.