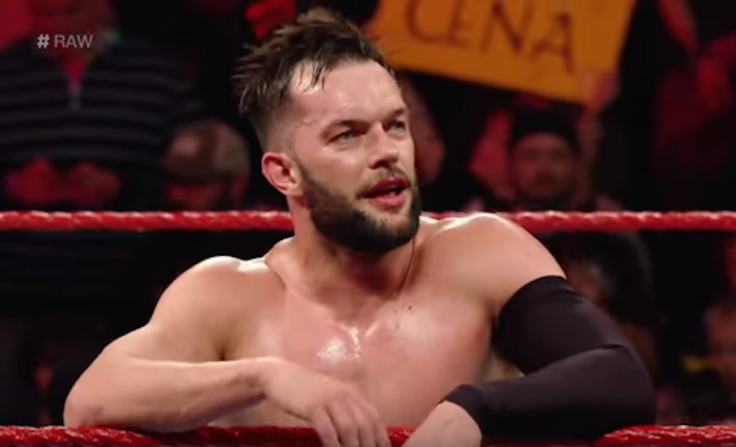 Just a couple of days short of the second anniversary of his signing with WWE, Finn Balor certainly made up for lost time on his Raw debut.
Fears Finn could get lost in the shuffle were cut down faster than Roman Reigns' post-suspension prospects after he covered the opening match and main event bases. And registered pins over the US champion and Vince McMahon's anointed star of stars. And mixed it up with two more of WWE's finest talents in Cesaro and Kevin Owens. And having been rocketed into a title clash at SummerSlam with Seth Rollins to decide a new Raw figurehead.
If nothing else, a fairly memorable way for the 35-year-old to mark his birthday.
Unsurprisingly, last night's show was one of the most gripping this year. A new title sequence and a move from ringside for the commentary position – with frequent cuts between matches to Michael Cole, Byron Saxton and Corey Graves employing NXT's more sports coverage-stylised delivery – were among the relatively minor presentation and production tweaks, but Raw did fizz with more energy than usual... or than was expected.
For the first time in a long time, Raw didn't feel like it had gone off. No doubt more debuts and character repositioning for the likes of Nia Jax, Braun Strowman and Neville (returning from an injury lay-off stretching back to before Wrestlemania) helped the show feel fresher, but of greater significance was the pacing of the show.
It was zippier, and not only for the inclusion of more obviously one-sided "squash match" contests against local performers (another big positive and wise revival of a retro TV technique, allowing WWE players to exhibit their physical credentials and ring superiority without reducing the status of a fellow company star). The two four-way qualifiers for the main event run-off to face Stephanie McMahon's handpicked Rollins were also both action-packed sprints, but more substantial than that, too.
Balor built his pre-WWE popularity in Japan on a foundation of his transition from a junior heavyweight talent to pure headline talent – any concerns his relatively modest size would prove detrimental on wrestling's stage for giants were batted away by how smoothly he was absorbed by established masters like Owens, Cesaro and Rusev. There were four moving parts to this story, even though the wider tale being told was Finn's. But each wrestling element glided back and forth into focus and the foreground, spinning a narrative that was more than a multi-person exhibition and pile up.
Similarly, a great balance was struck in the other qualifier in allowing Sami Zayn's underdog efforts to breathe without being suffocated by Reigns' comeback struggle. Reigns' new quest involved not only a tussle against a host of opponents eager to halt him in his tracks before he can reassume a top position in the pecking order, but a potentially even tricker comeback struggle against an adversarial audience.
The pre-main event goodwill that came with a headlining match that against NXT's hottest property went some way to melting any antipathy, forced or otherwise, hurled in Reigns' direction. After all, Reigns vs Balor is still an elite level fantasy clash in any ring in the world. What's more, Balor would be hard-pressed to be presented with an opportunity where neutrals would be more likely to transfer their sympathies to him.
A smash hit for Finn, then. There appears to be a rocket strapped to his leather jacket, hopefully taking him to the moon.
Another performer already over that way is Sasha Banks. Moments before the Balor-Reigns bout, Michael Cole suggested the two men would have to go some way to eclipse the action and emotion on display during and after Banks' surprise title win over Charlotte, long touted as a slow burning feud heading all the way to SummerSlam.
Whether Balor and Reigns did that or not really depends on fan partiality and preference – it was another excellent highlight for this episode of Raw, for sure. Without doubt, Sasha's more ardent fans may argue she has waited too long for the belt as it is.
Still, why the sudden rush?