On a sweltering hot night in the UK – stuffy, sleep-denying conditions that actually make it less of a struggle to stay up into the wee hours for live WWE programming – was anyone actually feeling the draft?
There was no new SmackDown set to relaunch the show in its new, LIVE format. Instead, we got the front-on positioning of Commissioners Stephanie and Shane McMahon and their respective General Managers – Mick Foley and Daniel Bryan – behind lecterns on the entrance ramp, which came off a little drab. Admittedly, staging options may be limited and particularly difficult to present as dynamic when authority figures have to waffle on for hours. Still, the scene felt more akin to a live event sketch rather than the heralding of a New Era.
In other presentation matters, it was puzzling that the current main roster members – believed to be backstage, with NXT's stars-in-waiting enjoying a viewing party at the Performance Center in Florida – did not appear when their names were announced, nor were their immediate reactions flashed up on screen. Instead, it seems the top players were busy producing content for a second-screen show on the Network. Busy bees, indeed – but which screen should we have been focusing on while SmackDown was making its bid to be regarded as on level pegging with flagship programme Raw?
There weren't any big returns, or even fair-to-middling size returns, from the rumoured likes of Kurt Angle, MVP, Carlito and Jimmy Wang Yang, linked with comebacks to pad out a roster stretched across two exclusive brands much in need of star power.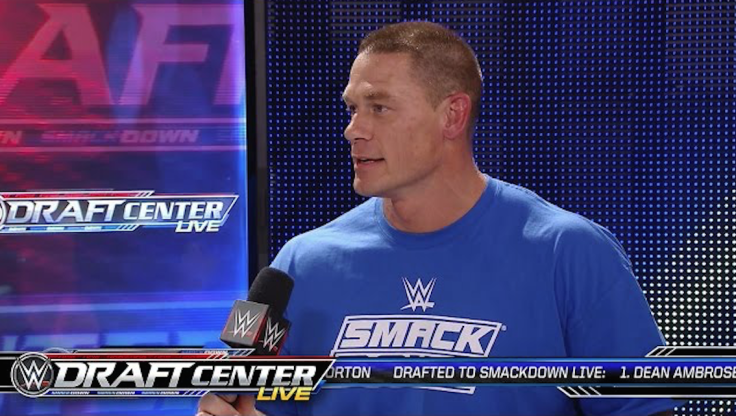 And there was no debut on Raw or SmackDown for NXT lynchpin Bayley, who has ostensibly seen Nia Jax, Alexa Bliss and Carmella nip in ahead of her.
But there were certainly a few surprises – Kevin Owens and Sami Zayn both on the same brand, real-life couple Paige and Alberto del Rio being assigned to different brands and the possible disbanding of the Wyatt Family – even if those shocks probably won't jumpstart WWE's declining TV figures in the US. The third hour of Monday's Raw, main-evented by champion Dean Ambrose and Seth Rollins and with appearances from the new Commissioners and GMs, lost over 200,000 viewers compared to the first and second hours.
On Bayley, WWE have got it completely right in delaying her introduction even further. The performer has a completely unique connection – never seen on the WWE stage when it comes to female stars – with fans ranging from kiddies to the most unforgiving and hardcore arbiter of wrestling taste. It would be an awful waste and thoroughly underwhelming if she was brought up as just another player and lost within the crowd of a larger group of newbies.
Plus, NXT needs her pulling power – gates have been fair for NXT's live events, which include a much broader mix of hopefuls at different levels of training with many not yet seen or even mentioned on Network programming. But in a league that tends to draw on and exploit positive emotion and upbeat storylines, Bayley's qualities as a headliner and super-fluid in-ring performer, as well as a locker room leader, are still much needed in Florida while the main rosters settle down and find their groove.
A similar case could of course be made for Finn Balor, who has been in NXT for nearly two years. His importance, however, was stressed by being an early pick.
One talent rattled at not being called up to SmackDown, thought to have been likely to be positioned as a 'worker's brand', was Cesaro. Although there will never be anything close to a no verbal holds barred discussion or interview on the well-curated WWE Network, perhaps the final words in this column should be left to an apparently unsettled Swiss superman.
He wasn't 'shooting', and who knows whether his immediate future role involves being wrestling's most gifted malcontent, but his response to a question about the figures in charge of Raw resonates more strongly than an European Uppercut to the chops.
He said: "Honestly, that's part of the problem, that you just asked me that question because I don't really care.
"I think Raw going forward needs to be about the superstars, it needs to be about the performers in the ring and not about how Stephanie McMahon and Mick Foley co-exist.
"They need to be there to mediate and make the best show, but that does not need to be the focus."
With a flurry of grating, anti-entertainment asides and interruptions throughout the draft picks, he's not wrong – whether the sentiments come from the mouth of the character or the performer.