With the WWE yet to either announce or dismiss any further action in regards to contracted talent Brock Lesnar's two UFC drug test violations – beyond insisting he hasn't performed in one of their rings since Wrestlemania and won't do again until SummerSlam – it was a little surprising for Randy Orton to casually bring the matter up as part of his smack talk ahead of his battle with The Beast next month.
"Something tells me you're going to pay for that little comment, Randy," warned Battleground segment host Chris Jericho, following Orton's dig about there being "no enhancement needed" for him to take Lesnar down with just "one RKO to Viperville".
Aggressive transportation parallels to Brock's 'Suplex City' aside, it was a mic drop like no other on WWE programming. The 15,000-strong crowd in Washington DC's Verizon looked to enjoy the burn from Randy on his return after nine months away recovering from a shoulder injury. But was the line planned and signed off in advance?
No matter his tenure or seniority within the locker room, it seems unlikely the man behind the character of The Viper would be daft enough to hiss and snap at Lesnar of his own volition, particularly due to the structural progression of his speech in the moments building to the climax of his interview section comeback.
Of course, glasshouse-dwelling Orton should be careful which direction he's chucking his stones in, having been suspended under the terms of WWE's in-house 'Wellness Policy' two times previously himself.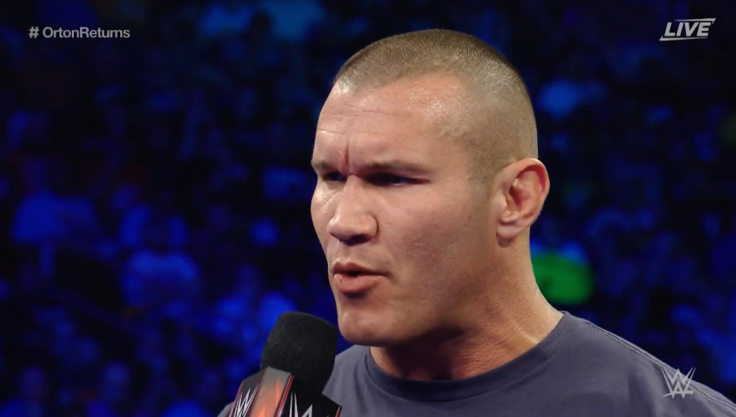 After all, does the WWE really want to present a headline bout on their second-biggest show of the year as a clash between two of their most high-profile test flunkers? Especially when one of those players – Lesnar – is the cover star for the upcoming video game release WWE 2K17, the promotional campaign activity for which centres around SummerSlam week in Brooklyn?
For a company that manages its social corporate responsibility and community programs so seriously, bot in front of and away from the cameras, such swipes come off as self-defeating.
Not that precedent for WWE performers' skirmishes with internal company policy regarding banned substances being woven into storyline hasn't already been set. Last month's storyline comments from Seth Rollins about Roman Reigns' "embarrassing" real-life "mistake" and suspension appeared at the time to be an – admittedly unconventional – attempted nod to transparency and an attempt to ensure a degree of narrative consistency. It also opened up the possibility of redemption for Roman on his return, if WWE wished to plunder that seam of emotion.
The jab at Lesnar, however, offers nothing similar. If WWE made a mistake in humanising the former Shield powerhouse as part of their efforts to position him as the new John Cena, reducing The Beast's incomparable aura of indomitability for the sake of a cheap knock seems even more wasteful.
That's not to say Lesnar should be given a free pass on the basis his character needs protecting from the standards that apply to lesser stars. Depending on what action UFC takes over his two test failures, WWE may be compelled to follow up themselves in some form to avoid wider censure, even though Lesnar was not performing in the squared circle when those tests were taken.
If a shot must be taken across his bow, do it properly – away from the cameras. Let's face it, it wasn't even that good a zing.
But if a petty poke is the most an understandably peeved WWE can or is inclined to do, everyone comes out of the situation with considerably less shine.