X Factor 2015: MiC LOWRY admire reality contestants but are proud to have worked for their success
The Supermodel singers consist of Michael Welch, Akia Jones, Kaine Ofoeme, Delleile Ankrah and Ben Sharples.
It has turned many aspiring singers into stars, but R'n'B group MiC LOWRY admit they have never considered trying their luck on shows like ITV's The X Factor. The Liverpudlians are tipped for huge success in 2016 and the group say they are proud to be gradually working their way to the top.
The Supermodel singers – consisting of Michael Welch, Akia Jones, Kaine Ofoeme, Delleile Ankrah and Ben Sharples – have achieved more than many rising singers would hope for, including performing at Glastonbury and winning a BET Award. Although they respect shows like The X Factor and the BBC's The Voice for helping aspiring singers, the TV competition was not an option for MiC LOWRY.
Member Jones told IBTimes UK: "No, the shows do well but I think for us the one thing we've enjoyed the most is meeting so many new people on the way and we've built relationships. I prefer to do it that way than to go on the show and just go big. I'd rather work hard for it."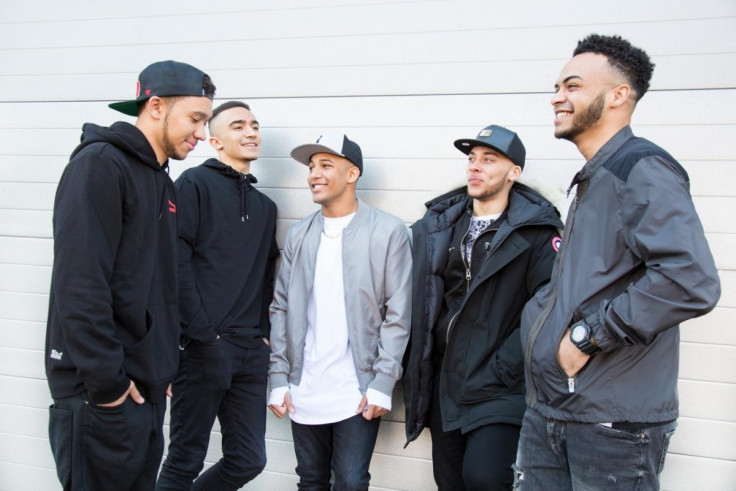 His bandmate Welch agreed, adding: "We've enjoyed the journey of what we've done. We don't diss the whole reality route, it's really good for people. We're lucky just to have the management and support that we do. Those reality TV programmes, they go through a lot on a weekly basis. They work hard for what they want and we've enjoyed how we've done it so far. We're still together."
Singer Sharples noted how fast these aspiring singers go from essentially being a "nobody" to being recognised by millions of viewers around the country. He explained: "We've been together for so long and we're learning all the time, getting better and improving all the time. On those reality shows sometimes they go from singing in their bedroom to being this massive star and people don't get the opportunity to learn and gain the experience along the way."
Echoing the sentiments of his bandmates, Ankrah said: "That's what it's mainly about, it's about the experience that we're creating now. We're meeting new people, new artists and we're building relationships with every single person that we meet."
© Copyright IBTimes 2023. All rights reserved.