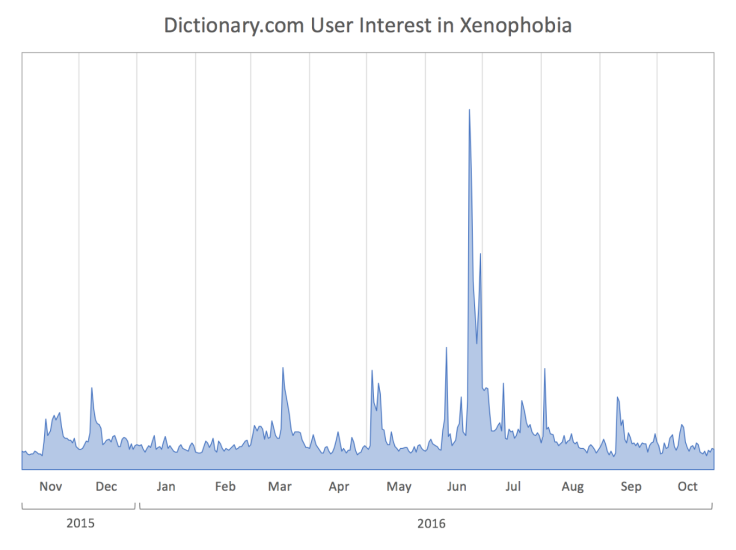 Dictionary.com has named "xenophobia" as its 2016 Word of the Year.
The website said it aims to pick a word which "embodies a major theme resonating deeply in the cultural consciousness" over the last 12 months, and chose the word for its prominence in light of recent news stories.
And though the website reported a rise in the number of searches following the election of Donald Trump, the largest spike recorded on Dictionary.com came in the immediate aftermath of the EU referendum result.
On June 24, when Brexit was confirmed, searches for the term increased by 938% on the website. That spike was matched by the Home Office's records for reported hate crimes, which increased by 41% in the month following Brexit.
A spokesman for Dictionary.com said the word was chosen to stimulate debate rather than to be celebrated.
"While our lookup data can tell us what Dictionary.com users are interested in, it doesn't tell us the reason for the interest," the spokesman said.
"Perhaps some of our users were unfamiliar with the word xenophobia, while others might have looked it up to double-check the spelling or pronunciation. Maybe our users looked it up to affirm what they already knew about the meaning, or to share the definition with others.
"What we do know is that from global events to political rhetoric, xenophobia was a recurring subject of discourse in 2016. Despite being chosen as the 2016 Word of the Year, xenophobia is not to be celebrated. Rather it's a word to reflect upon deeply in light of the events of the recent past."
The website defines xenophobia as "fear or hatred of foreigners, people from different cultures, or strangers". The word entered the English language in the 1800s and thus is relatively new in terms of the history of language.
In 2015, Dictionary.com's word of the year was "identity" due to the prevalence of discussion regarding gender and sexual identity. The year before, the site selected "exposure" after constant news reports citing exposure to Ebola and the media exposure to Islamic State.