Chinese President Xi Jinping kicked off his first state visit to the UK by hailing the "friendship" between the two countries, which he expects to hit a "new height". At a Buckingham Palace banquet, Xi said China and Britain were partners who had the same goals and vision and paid tribute to their alliance during World War II.
The Queen said that this was an "unprecedented year of co-operation and friendship" between the two countries. Earlier, Xi was formally welcomed by the Queen and the Duke of Edinburgh on Horse Guards Parade, cheered on by large crowds, comprising mainly of young Chinese nationals.
In a speech to MPs in Westminster, the Chinese president said he was "deeply impressed by the vitality of China-UK relations". He will meet Prime Minister David Cameron at Downing Street on 21 October and is expected to put pen to paper on Chinese investments into the controversial Hinkley Point nuclear power plant in Somerset.
More than £30bn (€41bn; $46.4bn) worth of deals are expected to be signed between the UK and China during Xi's four-day state visit.
'Shared interests'
"Although my visit has just started, I am already deeply impressed by the vitality of China-UK relations and the profound friendship between our peoples," Xi said at parliament's royal gallery. "This gives me good reason to believe that my visit will lift the friendly ties between our two countries to a new height.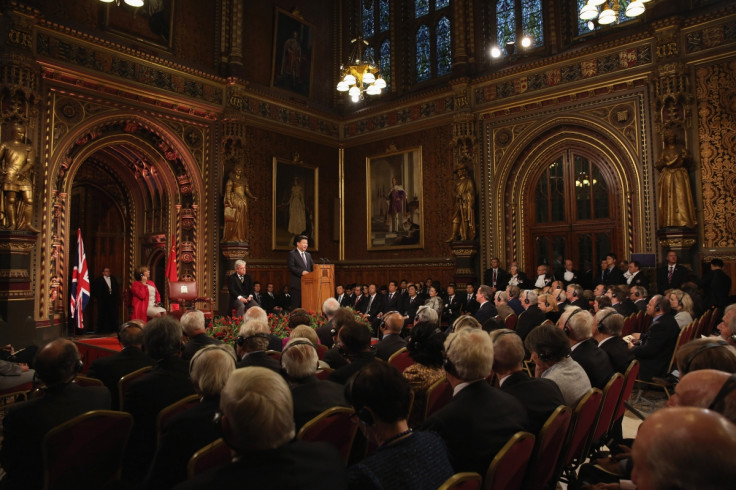 "Although China and the UK are located at opposite ends of the Eurasian continent, we have a long shared deep mutual affection," he continued. "It is fair to say that China and the UK are increasingly interdependent and becoming a community of shared interests."
At the state banquet, the Queen said Xi's visit was a "defining moment in this very special year for our bilateral relationship". The monarch said, "I am confident that it will serve to highlight the sincerity and warmth of our friendship and to strengthen relations between our countries for many years to come."
Recalling the Sino-British co-operation during World War II, Xi said at the banquet, "Nothing can separate people with shared goals and vision".
He is also scheduled to visit Imperial College London with the Duke of York and Chancellor George Osborne on 21 October, before attending a creative industries event at Lancaster House accompanied by the Duke and Duchess of Cambridge.
Trade boost
Xi is the first Chinese leader to visit Britain in a decade, with the UK seeing trade relations with Beijing as vital to boosting its own economic growth. Foreign Secretary Philip Hammond said: "My ambition is to see Britain as China's biggest trade partner in Europe.
"We want to be the most open economy in Europe to Chinese investment, to trade with China in order to secure British jobs and British prosperity working with China, which is the world's second largest economy, at the moment, and will become the world's largest economy over the next six or seven years. It is very much in our national interest to engage with China," Hammond stressed.