Xiaomi Redmi Note vs Asus Zenfone 6: A Basic Comparison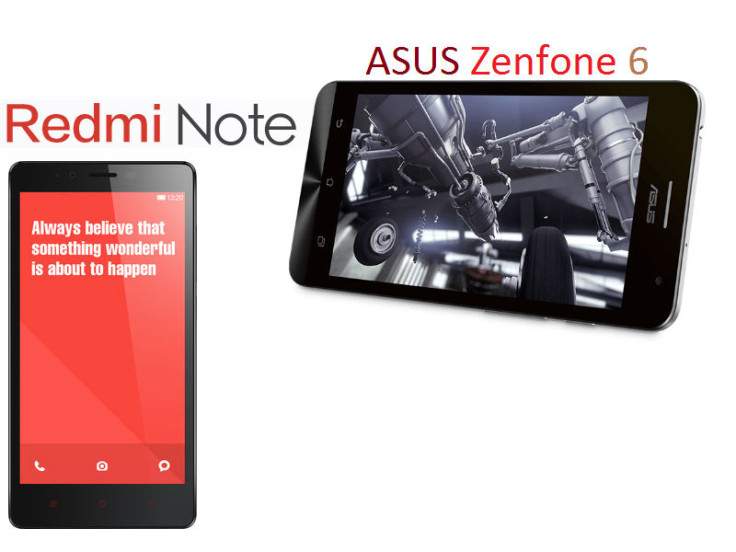 China-based Xiaomi and Taiwan-based Asus are two relative new players in the smartphone manufacturing segment. Both the brands cater to smartphone (generally consumer electronics) buyers looking at purchasing devices on a shoestring budget.
Both Xiaomi and Asus have come out with their latest offerings, the Redmi Note and the Zenfone 6 respectively. Both the smartphones are considered to be affordable in comparison to other devices in the same range.
Though the Redmi Note is more affordable (priced at £93), when compared to the Zenfone 6 (priced at £175), both the devices are considered to be in the same range, and have similarities in terms of technical specifications as well.
Let's see how these smartphones stack up:
Xiaomi Redmi Note vs Asus Zenfone 6: Screen
The Redmi Note incorporates a 5.5in Capacitive touchscreen, having a resolution of 720Px1280 Pixels at 267 Pixels Per Inch (PPI). The display supports 16M colours.
On the other hand, the Zenfone 6 has a bigger 6in Capacitive touchscreen that has an identical 720X1280 pixel resolution, at 245 PPI. Like the Redmi Note, Zenfone 6's display supports 16M colours.
So, they are even stevens in terms of display.
Hardware
Xiaomi's Redmi Note is driven by a MediaTek MT6592 octa-core processor that is clocked at 1.7GHz, whereas Asus' Zenfone 6 incorporates a lowly Intel Atom Z2580 processor clocked at 2GHz.
If you prefer a device that works faster, choose the Redmi Note.
Memory
Both the Redmi Note and Zenfone 6 have an identical 2GB RAM coupled with their respective processors, but differ in internal storages.
On purchasing the Xiaomi Redmi Note, you will find only 8GB internal storage (expandable to 32GB via MicroSD card), in comparison to the Zenfone's 16GB (expandable up to a higher 64GB via MicroSD card).
The Redmi Note's 2GB RAM, coupled with its octa-core processor should enable users to run certain high-end games within their devices.
Camera
Both the smartphones feature an identical 13MP rear camera with Flash, but the Redmi Note sports a 5MP front camera, beating the paltry 2MP front snapper offered by the Zenfone 6.
The 5MP front camera on Redmi Note should give people obsessed with capturing photos of themselves, much to cheer about.
Software
Xiaomi's Redmi Note runs the Android 4.3 Jelly Bean operating platform straight out of the box, on top of the MIUI 5 user interface.
The Asus Zenfone 6 also runs the Android 4.3, but on top of the Zen UI user-interface.
Both the smartphones almost draw level here.
In terms of connectivity, both the Redmi Note and Zenfone 6 provide identical options such as Bluetooth 4.0, Wi-Fi, microUSB, and also feature dual SIM-card slots.
Both the smartphones are 3G-enabled.
Release Date and Price
Xiaomi Redmi Note has begun a gradual roll out, starting from China and has now reached India where the device is up for purchase at an affordable £93 (INR 8,999).
Like Xiaomi's Redmi Note, the Zenfone 6 has also been launched during the earlier part of 2014, and is up for purchase in countries like the United Kingdom (costs a staggering £206), and India (costs INR 17,700).
Xiaomi's Redmi Note emerges as a clear winner as far as affordability is concerned.
© Copyright IBTimes 2023. All rights reserved.