Although the Xperia Z2 stores 100mAh more power than the Xperia Z3 which uses a 3,100mAh battery, the latter offers longer life than the former, according to battery tests.
GSMArena managed to put the Xperia Z3 through battery tests, measuring different parameters of the battery performance.
The 3G talk time test result suggests that the Xperia Z3 has packed enough battery to run almost 24 hours. The Xperia Z3 was one hour ahead of the Xperia Z2 and also was one among the top performers, which delivered a talk time of up to 25 hours.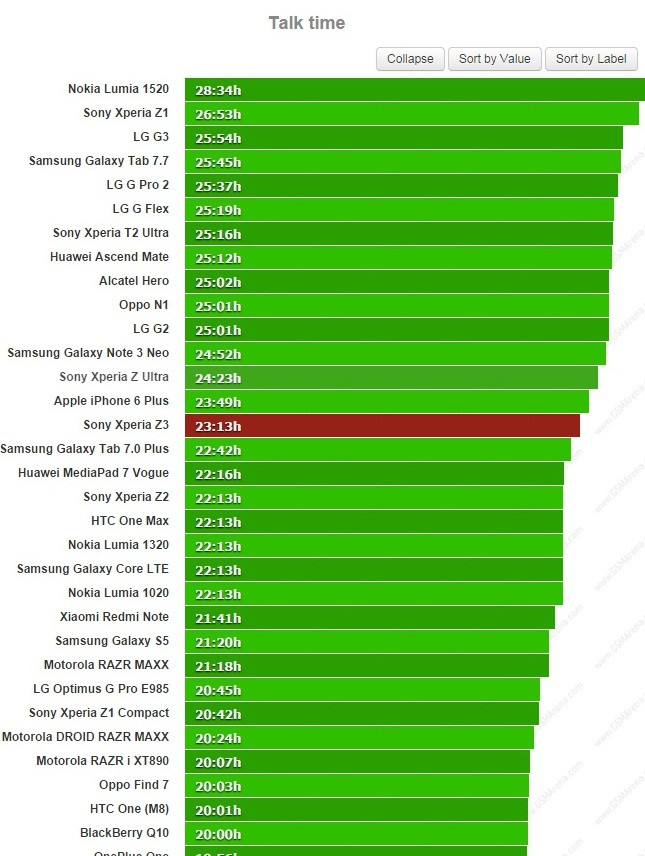 In the web browsing test, the Z3 again scored an excellent mark with internet use of up to 12 hours, which is half an hour more than the Z2, which stayed for 11 hours and 32 minutes. The Galaxy S5 Mini with browsing time of more than 13 hours, grabbed the first place in the test.
The Xperia Z3, in the video playback test, was preloaded with video files and left until the battery came down to 10%. It again delivered a battery life close to 12 hours and was just half an hour short of Xperia Z2.
Sony's new Xperia smartphone offers an impressive stand-by mode and scored an endurance rating of 85 hours, four hours less than the Xperia Z2.
The Z3 can run for three and a half days under average usage with one hour of web browsing, calling and video watching per day.
Use the Stamina mode if you want to get most out of the battery. This feature extends the battery life by toggling Wi-Fi, GP, Bluetooth, screen brightness, auto sync and background data on or off automatically when the battery is down.