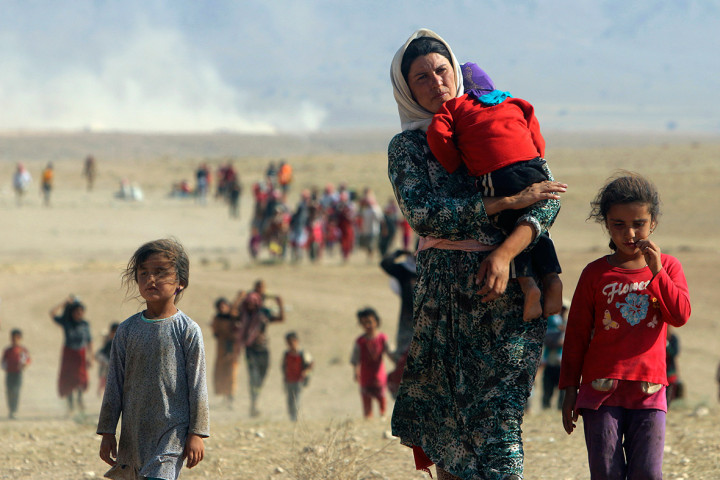 Yazidi women who have been abducted and raped by ISIS militants have been imploring their community to end their misery by killing them, while some are reported to have comitted suicide by jumping off cliffs, Kurdish news website Rudaw reported.
As Islamic State militants surge into Kurdish villages, men and young boys are being slaughtered while women become victims of sexual violence.
A mother recounted the horror of three of her daughters committing suicide after being raped by the Islamic State.
"My daughters were calling on people to kill them, but no one wanted to do that. So they jumped from the mountain and ended their bitter life," she told Rudaw.
The militants took the girls by force and raped them, and after they returned they killed themselves.
An old Yazidi man, who escaped death at the hands of IS, claimed he has never seen such barbarism in his entire life.
"In my whole life I have never seen something like this. Our world is destroyed. I can't say anything."
Watch the video below.
Meanwhile, the Peshmerga forces have opened an escape route for the surviving Yazidis.
An estimated 1.5 million Yazidis have been displaced in the unrest since the IS advance began in June.
The United Nations has expressed concern about the ongoing sexual violence on women, teenage girls and boys from the Iraqi minority community.
"We are gravely concerned by continued reports of acts of violence, including sexual violence against women and teenage girls and boys belonging to Iraqi minorities.
"Atrocious accounts of abduction and detention of Yazidi, Christian, as well as Turkomen and Shabak women, girls and boys, and reports of savage rapes, are reaching us in an alarming manner," UN official Nickolay Mladenov and Zainab Hawa Bangura said in a joint statement.