Prisma, a new iOS app that makes photos look like drawings or paintings, has taken the world by storm. Unlike other photo-editing apps such as Instagram, Prisma doesn't simply overlay filters on photos. Instead it uses what the developers describe as "a combination of neural networks and artificial intelligence" to examine the image details and then completely redraw them.
There are 34 filters, each with a different artistic style. Some are modelled on famous artists or even specific paintings, so that – in theory – you could make your selfie look like a Mondrian or a Chagall or a Picasso – or Edvard Munch's The Scream. In practice, however, different photos suit different filters; there are usually only three or four filters that work well with the style of a specific photo.
I spent some time playing with Prisma this weekend. Actually, that's a massive understatement. I spent a lot of time playing with Prisma this weekend. While everyone else was outside enjoying the sunshine or hunting Pokemon, I was obsessively experimenting with Prisma filters. Here are four of my (many) Prisma masterpieces, alongside the original photo.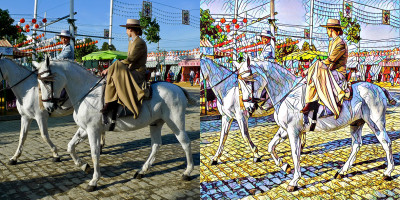 I especially love the way the way the Composition filter has transformed my Barcelona beach bodies photo. The bold graphic shapes and the colour palette are pure Matisse. This raises the question: does making a photo look like a painting turn it into a work of art? No, it's more a case of iPhone imitating art. But I like to think that given the right combination of a good photo and the right filter and a sprinkle of magic from those mysterious neural networks, the results can be considered art. (But then, I would say that; I've just claimed one of mine is basically a Matisse.)
I trawled through some of the thousands upon thousands of Prisma images that have been uploaded to Instagram. Here are some of the ones that caught my eye:
If you'd like to try creating your own digital masterpieces, download the app. It's free. Prisma is currently only available for iOS devices, although an Android version is in the works and will be released before the end of July.