Houthi forces supported by military forces loyal to former Yemen President Ali Abdullah Saleh may have violated the laws of war after a human rights group found they repeatedly fired mortar shells into populated neighbourhoods and confiscated food and medical supplies.
Shi'ite Houthi rebels in Yemen, also known as Ansar Allah, have seized several territories in Yemen during fierce fighting over the past few years, including in the capital Sana'a. According to UN figures the fighting has led to the deaths of up to 4,500 people, including more than 2,100 civilians.
"Houthi leaders should realize that they could someday face war crimes trials for ordering or taking part in indiscriminate rocket and mortar attacks on civilian neighbourhoods," said Joe Stork, deputy Middle East director at Human Rights Watch (HRW).
Indiscriminate shelling
The campaign group claims Houthis fired mortar shells and artillery rockets indiscriminately into populated neighbourhoods in the southern Yemeni city of Taizz in August 2015, "without regard for the safety of its residents", killing at least 14 civilians, including 5 women and 5 children.
In the second half of August, Houthi attacks on civilian neighbourhoods in Taizz killed at least 42 civilians, the United Nations Office of the High Commissioner for Human Rights reported.
HRW investigations found that artillery rockets had been used, including one apparent Grad rocket, and mortar rounds with blast and fragmentation effects. These weapons, in particular unguided rockets, are difficult to target with accuracy, and when directed toward populated areas are indiscriminate.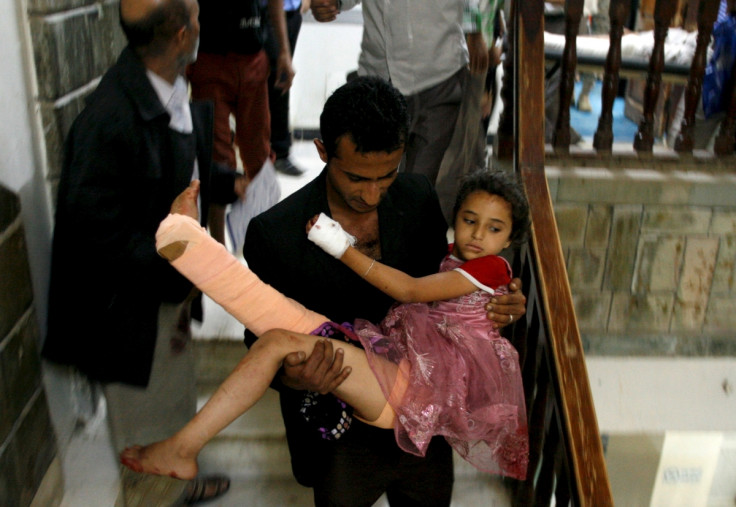 During its visit to the Wadi al-Madam neighbourhood, HRW saw no evidence of military installations or other military objectives that would constitute legitimate targets. For instance, one attack on 23 August hit near a group of boys playing football, killing three of them and one boy's father, who was watching them. Witnesses said there were no military installations or forces in the area. Indiscriminate attacks amount to war crimes when carried out deliberately or recklessly.
Confiscating food and medicine
Since early October, HRW claimed pro-Houthi forces at checkpoints have also unlawfully confiscated water, food, medicine and cooking gas that civilians try to bring into non-Houthi controlled neighbourhoods. In a recent incident, for example, the Houthis confiscated drugs from three trucks that were sent by the World Health Organization to Taizz.
While laws of war do not prohibit sieges of enemy forces, starvation of civilians as a method of warfare is prohibited, as is confiscating or destroying objects that are indispensable to the survival of the population.
Unicef, meanwhile, told IBTimes UK a disaster was looming as humanitarian aid is stranded due to fuel shortages.
A US-backed, Saudi-led Gulf coalition has been carrying out air strikes against the Shi'ite Houthi rebels since March. On 21 April, the allies announced the end of Operation Decisive Storm, their campaign of air strikes against Houthi fighters, but said it would continue to impose a naval blockade. The coalition soon resumed the strikes.