Yemen: UN warns that half the country is 'one step away from famine'
The UN has warned that food supplies in Yemen are rapidly decreasing, and famine is "just one step away" for half the country.The nation has been at war since March, when a Saudi Arabian led Gulf Arab coalition started fighting Houthi forces.
That conflict has led to more than a million people becoming displaced, with 10 out of 22 governorates classified as facing emergency levels of food security.
Matthew Hollingworth, the deputy regional director of the United Nations World Food Programme (UNWFP), said: "Clearly, Yemen is one of the hardest place in the world today to work, with massive security concerns, escalation in the fighting and the violence across the country.
"We are doing well, we are improving our reach and getting to more people every month, but clearly with half of the country now just one step away from famine, we need the international community to really come behind us and support us, particularly over the next few months."
In November, the 2016 Humanitarian Needs Overview in Yemen found that 14.4 million people out of the 23 million population are food insecure, which means they are struggling to get enough food to live a healthy life. That includes 7.6 million in desperate need of food assistance.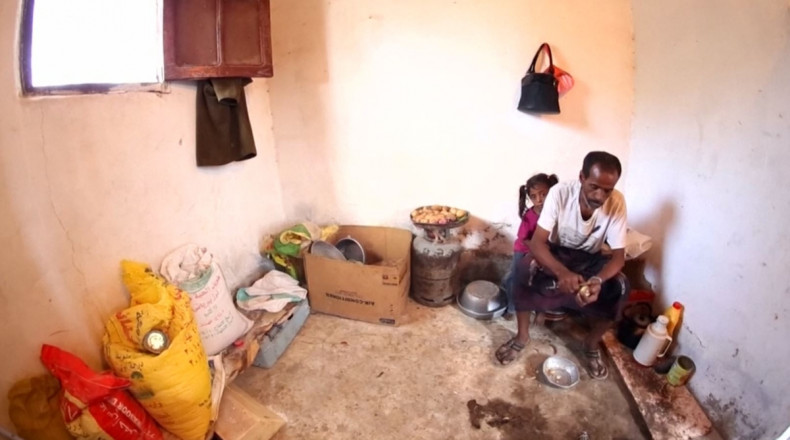 Displaced Yemeni Mohamed Ahmed Hassan said: "I appeal to all people of good will. Look at these displaced people. They are your brothers from Yemen. You must look at them and consider them. Help them with anything, food, clothes, mattresses. People here have nothing. They don't even have anything to sleep on. They sleep on the ground".
Prior to coalition intervention, Iranian-backed Houthi forces had forced Yemeni President Abd-Rabbu Mansour Hadi into hiding. Saudi Arabia assembled the coalition amid fears of growing Iranian influence in the region in March. More than 4,500 people have been killed since then, according to UN figures.