The lethal bombing of a packed funeral in the Yemeni capital of Sanaa was the result of "wrongly passed" information, an investigation team convened by the Saudi-led coalition which carried out the attack has concluded.
A "party affiliated to the Yemeni Presidency" informed the coalition that there was a gathering of armed Houthi leaders and insisted that they be attacked as a "legitimate military target," the Joint Incidents Assessment Team said in a statement.
In reality, the meeting was a funeral, where hundreds of people had gathered to pay respects to the father of the interior minister, of Houthi-run northern Yemen, Jalal al-Roweishan.
The "double tap" strike attacked first the funeral goers and then a second attack hit the first responders who had arrived to give aid, resulting in the deaths of 140 people.
The statement released through the Saudi Press Agency, said that: "The Air Operations Center in Yemen directed a close air support mission to target the location without obtaining approval from the Coalition command.
"A Coalition aircraft in the area carried out the mission, which resulted in several deaths and injuries."
The Iranian-backed Houthi rebels, who siezed the Yemeni capital in 2014, are engaged in a struggle with Abd-Rabbu Mansour Hadi, the internationally-recognized president, who is backed by the Saudi led alliance that also includes Bahrain, Egypt, Morocco, Qatar, Sudan and the United Arab Emirates.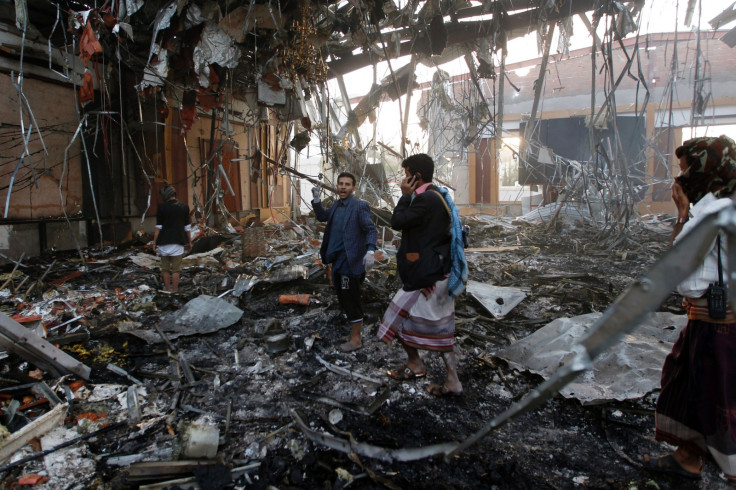 The United Nations estimates that 10,000 people have been killed in Yemen since the war began.
The JIAT report concluded that: "appropriate action, in accordance with Coalition regulations, must be taken against those who caused the incident, and that compensation must be offered to the families of the victims.
"Moreover, Coalition forces must immediately review their rules of engagement and update their procedures to ensure adherence in future."
JIAT is formed of 14 members from coalition states and is charged with ensuring coalition attacks meet the standards of legality established by international law. In a previous investigation, released in August, into eight other attacks carried out by the coalition, JIAT concluded the rules of engagement had been followed in six of the attacks.
These attacks included operations conducted on a residential area, hospitals, markets, a wedding and World Food Program aid trucks.