On the morning of May 5, a siren sounds for two minutes and Israel comes to a standstill. Cars pull to the side of the road; drivers and passengers stand in silence beside their vehicles.
They pause to remember the torturous conditions that millions of people lived and died in during the Second World War.
As Israel marks Holocaust Remembrance Day this year and the slaughter of six million Jews in the Holocaust, it's also time to reflect on the survivors living in poverty.
A survey released in 2014 from The Foundation for the Benefit of Holocaust Victims revealed that of the 190,000 Holocaust Survivors living in Israel, 45,000 of them are living in poverty.
The report showed many of the survivors, now in their mid-to-late eighties, are struggling with poor health and trying to survive on minimal pensions and tiny compensation payments.
Despite an £840m plan in place by the Israeli Government, a quarter of Holocaust survivors in Israel live below the poverty line. The report also showed 78% have health problems, 35% live alone without any assistance, 30% at times went without buying food, and 45% suffer from loneliness and isolation and believed their grandchildren would forget the Holocaust.
"All some of these people have known is suffering – their lives started with enormous suffering and now many of them are going through insurmountable hardships, on top of the burden of the horrors they experienced," said Tamara More, chief executive of the Association for Immediate Help for Holocaust Survivors, which supports 3,000 Holocaust survivors across Israel.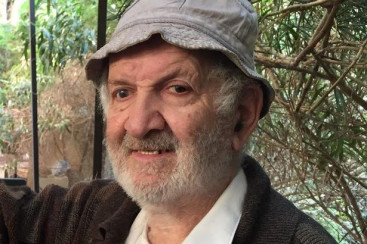 Tamara More told IBTimes UK that one of the most extreme cases involved a man who she would only identify as Isaac who lived in Ramat Gan.
"He has no running water, no electricity – he cannot cook or heat his home in winter.
"We have given him heat pads that heat food without power and we take him for meals and to wash every Friday," she said.
Eighty-year-old Isaac lives in squalor. As a child he had to hide from the Nazis in a cellar beneath a Ukrainian pigsty with ten other Jews who were unsure if they would be murdered or rescued.
"I survived the war by hiding under a pigsty and now I live in difficult circumstances again – I admit it's hard.
"I have no working plumbing in my home and I go to the Association for a hot shower and meal. I like to spend time with the volunteers there," he said.
"Holocaust survivors are really like the cats you see on the streets here in Israel. Not everyone can appreciate them – I do and it's important."
"There seems to be Holocaust fatigue – some younger people don't understand what we had to go through, they say we didn't fights for our lives but I'm here," he added.
As part of Israel's £840m plan in 2014, Holocaust survivors receive a minimum monthly payment of 2,200 NIS (£400). The new legislation allowed equal treatment to survivors who had immigrated to Israel after 1953 but only if they had been in concentration camps, or ghettos. Survivors now also receive free medication.
Asia Komisarov was born in Leningrad (now St Petersburg) in 1939; her father was killed by Nazis during the 872-day siege of the city. As part of a wave of Russian Jewish immigration, she moved to Israel in the 1990s.
She tried desperately to find work but was unable to, and eventually lost her dilapidated, tiny flat in Jaffa as rents rose dramatically.
The Association for Immediate Help for Holocaust Survivors rescued her from homelessness and moved her into a care home, until she died of pancreatic cancer late last year at the age of 77. Around 40 Holocaust survivors die each day, about 14,600 each year.
Boris, who was born in Belarus, is another survivor the association works closely with.
He moved to Israel in 1991 after the collapse of the Soviet Union and had struggled to get regular work.
During the Second World War his father worked on trains in Belarus, but it became too unsafe so his family fled, after they managed to get their Soviet passports changed so they weren't identified as Jewish.
Boris has never been able to afford a place of his own. According to the association, his income is just 1080 NIS (£180) and a small allowance from the Israeli government.
"The state needs to do more to help us. The little help that came from the state due to recent legislation is helpful, but too little too late. I used to spend 300 NIS (£53) per month on tablets alone," he said in January.
"Many of the Holocaust survivors are struggling greatly with everyday life due to their financial situation, to the point of saying that they want to die – these are the exact words a survivor told us yesterday," said Tamara More.
"Many survivors we care for have no family and are penniless. They cannot even afford to rent and live in a rat-infested single-room apartment. The Association rents a special house so that we can accommodate destitute Holocaust survivors who, in several cases, were moments away from being thrown out to the street. "
"Many Holocaust survivors who are alone in the world, cannot afford home-care and do not receive nearly enough hours from the state to survive. These survivors are in great need for home-care and we are desperately trying to find volunteers who will do this difficult job so that these survivors (many of them handicapped) will be able to live in dignity in spite of the huge difficulties they face daily."