Yooka-Laylee release date confirmed as Switch version replaces Wii U
Playtonic confirm April release date with Toybox pre-order bonus.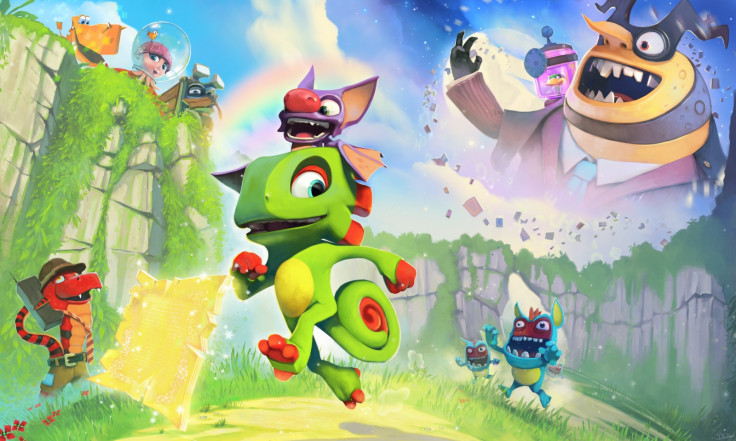 Upcoming 3D platformer Yooka-Laylee will be released on 11 April 2017 for PS4, Xbox One, PC, Mac and Linux, developer Playtonic Games has announced. The news is confirmation of an Xbox Store listing which leaked overnight.
Comprised largely of former Rare developers who worked at the famed British studio during its 90s heyday, Playtonic were formed to create Yooka-Laylee – which it was able to do with the aid of a £2.1 million Kickstarter campaign.
The game will cost £34.99, and pre-ordering will grant players access to the Toybox, a sandbox playground for sampling Yooka-Laylee's nostalgic platforming joys.
Playtonic made the Toybox available to certain Kickstarter backers on PC earlier this year, and hope to bring the console version of the feature to backers who weren't able to play it.
A Digital Deluxe version will be available on PC via Steam and GOG.com which includes a digital soundtrack and manual/art book.
Playtonic also announced that it has cancelled the planned Wii U version of the game in favour of a version for Nintendo's next console, Switch, which is set for release in March 2017.
"The Playtonic team is sad to confirm that despite our best efforts and exploring every possible avenue, we've encountered unforeseen technical issues that unfortunately mean it will be impossible for us to release the game on Wii U as initially planned," read a statement on the studio's website.
Recently, indie hit Stardew Valley also switched development of a port from Wii U to the new console.
Playtonic also addressed those who pledged enough to the Kickstarter campaign to have effectively bought the game already.
"We'd like to apologise to those affected by this development and offer all Wii U backers the opportunity to move their pledge free-of-charge to any of the versions launching on April 11th (PS4, Xbox One, PC, Mac or Linux) or upgrade to the Nintendo Switch version when we announce further details in 2017."
An FAQ on Playtonic's site also confirms that backers will be able to receive a refund if they don't wish to switch to another version.
A new trailer (below) was revealed alongside the announcements, showing off a new setting in the game.
For all the latest video game news follow us on Twitter @IBTGamesUK
© Copyright IBTimes 2023. All rights reserved.