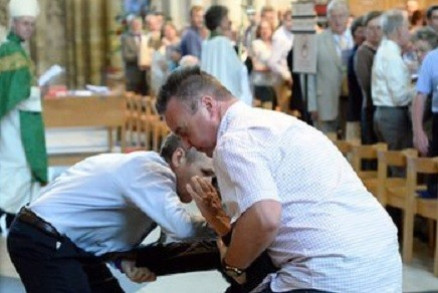 An aide to the Archbishop of York has been injured in a scuffle at a meeting of the Church of England's General Synod in York.
A man, described by witnesses as "tall, white and dreadlocked", was arrested at the scene.
Minister Stewart David Smith, an aide to the Archbishop of York Dr John Sentamu, was left nursing a bloody nose after a physical confrontation at a Synod debate at York Minster.
The incident occurred as clergymen sang the opening hymn of service, when clerics were forced to intervene to hold down the suspect, who had blocked the path of the oncoming procession and begun shouting during Welby's address.
The Church of England said two men suffered injuries but were treated at the scene.
According to witnesses, the man began calling out in a loud voice after Archbishop Welby made his way down the nave of the church, clashing with clerics as they filed past. Smith was assaulted shortly after spending some moments in conversation with Welby, said witnesses.
Archbishop Sentamu had just addressed the congregation, drawing laughter with his recollections of a recent hospital operation.
A spokesman for North Yorkshire police said, "We received a call just after 10am with a report of an assault on a male at York Minster. We were there within minutes and one male was arrested on suspicion of assault."