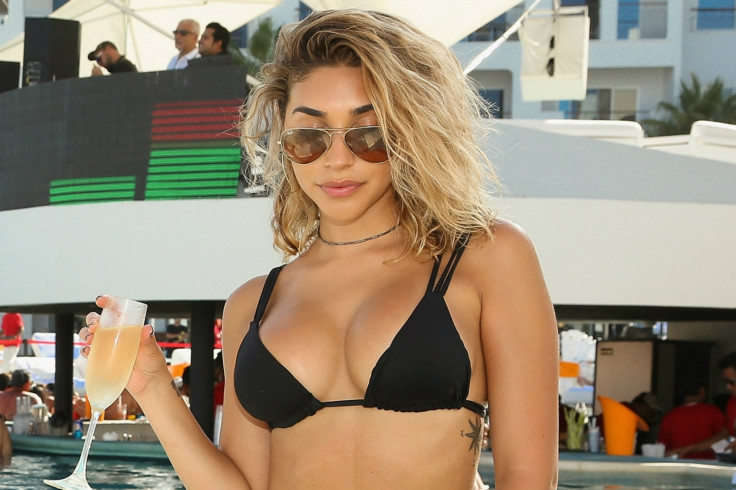 A breast reduction surgery has certainly helped Chantel Jeffries to be more body confident than she was earlier as she can't stop flaunting her flawless figure. In a racy Instagram post, she shared a video of herself posing in a skimpy bikini and flaunting her cleavage.
In the sizzling video, the model for Khloe Kardashian's denim line, teased her fans about her upcoming new song.
Jeffries wore a black lacy thong and matching bikini top as she posed for the camera while showing off her hourglass figure in Bali, Indonesia.
While her racy post was aimed at announcing her song, quite a few comments from her near-three million followers were about the Instagram star's breasts post the plastic surgery.
"Your boobs look perfect," one fan commented on the 23-year-old's image. "It's not fair that you're this pretty," another gushed.
In another post, the model, who briefly dated Justine Bieber in 2014, flaunted her tiny waist and toned abs in a skimpy white bikini.
And, surprisingly, there were a few who didn't seem very impressed by her physique and body shamed her for her derriere.
"Where did the ass go girl," one social media user mocked her.
But some of her loyal fans came to her defence and slammed the body shamers. "I like that you don't have a huge fake ass like everyone else," one fan wrote.
"You don't need ass when you look as good as her. Not everything is about ass if that's all you're worried about that's sad," commented another.
Recently, in a YouTube video, Jeffries confessed that she was underwhelmed by her "saggy" breasts due to her fluctuating weight and, hence, decided to go for cosmetic surgery.
"I'm doing a video that I've been wanting to do for a little while," she started. "It's something I'm a little bit nervous about, but I wanted to share with you guys because I think it could be really helpful and I also wish that I had a video like this to see when I was going through the situation," she explained.