Thousands of nurses at Zimbabwe's public hospitals have joined striking doctors to put pressure on President Robert Mugabe's cash-strapped government to pay their 2016 bonuses and improve their working conditions.
Budget allocation failures come in the context of massive structural challenges arresting the Zimbabwean economy. As the economic crisis further cripples the nation, civil servant salaries, traditional annual bonuses and government pensions are often paid late. Since 15 February, state hospital doctors have been striking over allowances and job security.
The nurses' move comes after the Zimbabwe Nurses Association (Zina) reportedly wrote to the government last week demanding to be given specific dates for their 2016 bonus payments.
Zina secretary general Enoch Dongo said on 28 February that nurses at Harare Central Hospital were the first to answer the indefinite strike call. They were followed by state-nurses employed at Chitungwiza Central Hospital, also in the capital.
Emergency services were scaled back on 1 March, as the strike strained an already poor situation in hospitals of Zimbabwe's poorly-funded public health system. Last week, the authorities were forced to send in army personnel to care for patients, but the BBC reports there are fears these substitutes will not be able to manage without nurses.
Quoted by NewsDay newspaper, Dongo said nurses will only return to work when the government gives them a firm commitment that their bonuses will be paid to medical professionals.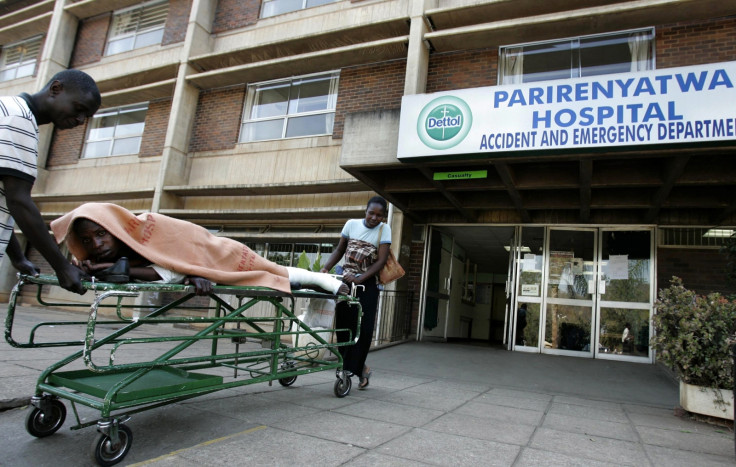 "Yes, we have downed tools because the government was not showing commitment to pay us our bonuses," he said.
"Our job is a bit different from any other job, we cannot handle patients well when our morale is low. So we decided that the nurses, who are not psychologically prepared to do their jobs, should stay at home to avoid making mistakes that could put patients' lives in danger."
The government has proposed offsetting last year's unpaid bonuses with land offers, but Zina said nurses want payments in cash, not land.
Five months ago IBTimes UK reported an acute and growing shortage of medicines in Zimbabwe was aggravating the spread of deadly infections typhoid and cholera across the country, as the ailing economy was worsening the nation's failing public health system.