Our favourite fashion model parody, Derek Zoolander, does not return to the big screen until 2016, however the latest teaser for Zoolander 2 suggests the selfie may be playing a supporting role in the movie as well as highlighting how we have all become Zoolander today.
Back in 2001 when Ben Stiller's elaborate character hit the screens he seemed too ridiculous for real life. Mocha choco lattes, obsessive narcissism and pouting were hilarious and a wildly exaggerated version of the exclusive life of a model. Not any more.
Flash forward to the latest promotional poster for the upcoming sequel and Derek and Hansel are both reaching over each other to take the perfect selfie. Derek is sporting a fantastic sequinned tuxedo jacket while Hansel (Owen Wilson), is looking ethereal in lavish sheepskin.
But wait, they are not looking as ridiculous as before; in fact, their stance and pose are almost commendable. With the supreme power of Instagram, iPhones and Facebook in our lives, we have all inadvertently been Bluesteeling away in Zoolander's absence and no longer see him as a joke. If anything he is a fashion icon now.
Model Kendall Jenner's selfies are the most liked in the world, while every man, woman and child was googling behind the scenes pics taken by the Victoria's Secret Angels to see snaps taken by the women themselves. Balmain's Olivier Rousteing has no problem prepping his impeccable cheekbones for a quick pic a la Hansel and Kim Kardashian could certainly teach Derek a thing or two on posing.
The world of fashion these days has taken a lot of lessons from Mr Zoolander as well as Wilson's pursed lipped character Hansel, so much so that they even took over fashion week in March, in a "walk-off" for Valentino complete with selfie taking on the runway.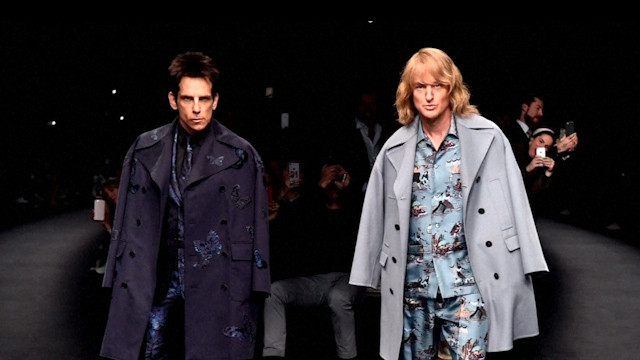 With a few months to wait until we can really see what the boys have been up to in their 15-year break, it will be interesting to see what other aspects of their life will no longer seem ridiculous to us. As will the insight into how far Stiller and Wilson will go to get Zoolander and Hansel looking as "really really ridiculously good looking"' as every other model who has filled in the selfie-loving gaps they left in their absence. Until the,n you can get your fashion fix with Zoolander's newly launched Instagram page, which is pretty much the one person the social site was truly made for.