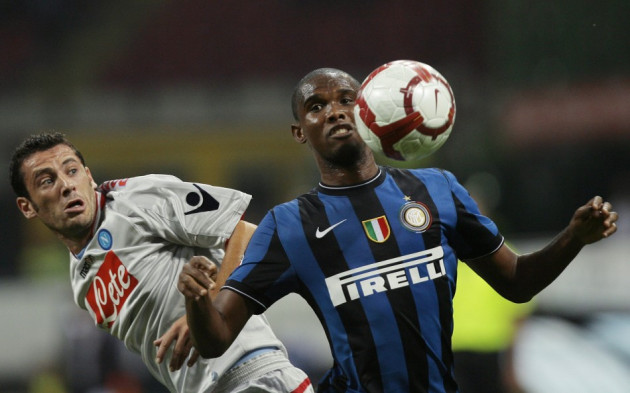 The pick of today's Premier League, Serie A, La Liga and Bundesliga football transfer rumours, news and gossip for 10 August, 2011. All the latest transfer rumours surrounding Man Utd, Chelsea, Arsenal, Liverpool, Tottenham Hotspur, Manchester City, Bayern Munich, AC Milan, Inter Milan, Juventus, Roma, Barcelona and Real Madrid will be covered here.
Premier League
Wesley Sniejder is "48 hours away from his dream move" to Manchester United, according to the Mirror. We've heard this before though, so take news that Sneijder's officials will hold talks with United on Wednesday with the requisite pinch of salt.
United look set to miss out on Samir Nasri, though, after Arsenal told Manchester City they could have the French midfielder for £22m. The Gunners' are also set to lose diminuative midfield scamp Andrey Arshavin to Russian side Anzhi Makhachkala and their petro-rubles. Boss Arsene Wenger remains keen on Birmingham defender Scott Dann but could be beaten to the chase by Liverpool who are prepared to pay £5m more than whatever Arsenal have offered.
New Chelsea manager Andre Mourinho-lite is interested in Porto midfielder Fredy Gaurin, Real Madrid are also interested but the youngster is going nowhere: "Porto have not received a single offer for the transfer of Guarin, whether it is from Real Madrid or any other club, nor does it pretend to negotiate this player or any other," a Porto statement read.
Staying in west London, the Blues are prepared to use midfielder Yossi Benayoun and a tenuous bait metaphor to entice Luka Modric out of White Hart Lane. Spurs will move a step closer to signing Lassana Diarra from Real Madrid as the Croatian playmaker's pseudo-replacement.
Meanwhile, Spurs are planning a £35m "raid" for Porto's comically named striker, Hulk. Although, seeing as Chelsea had an €80m bid for the Brazil international rejected earlier this summer, any progress seems unlikely.
La Liga
Reports in Spain suggest Barcelona are getting very close to the signing of Cesc Fabregas after recent talks. Meanwhile, Galatasaray have reached an agreement with Atletico Madrid for the £12m transfer of winger Arda Turan.
Serie A
Inter Milan striker Samuel Eto'o is poised to move to Anzhi Makhachkala, according to his agent, Claudio Vigorelli. ''We have almost reached an agreement with Anzhi. Now we hope that the clubs agree," he said.
Barbara Berlusconi, daughter of Italy president Silvio Bunga-Bunga and Milan striker Alexandre Pato's beau, told Vanity Fair that the Brazil international could still move to Chelsea: "All the players in the squad are for sale at the right price, including Pato. He's no different to the others."
Roma director Walter Sabatini is interested in Villarreal's Nilmar, he told Sky Sport Italia: "He is a Villarreal player and an excellent player. How far away are we? It's what stands between us and the place we need to be. In other words, there's a big distance between us."