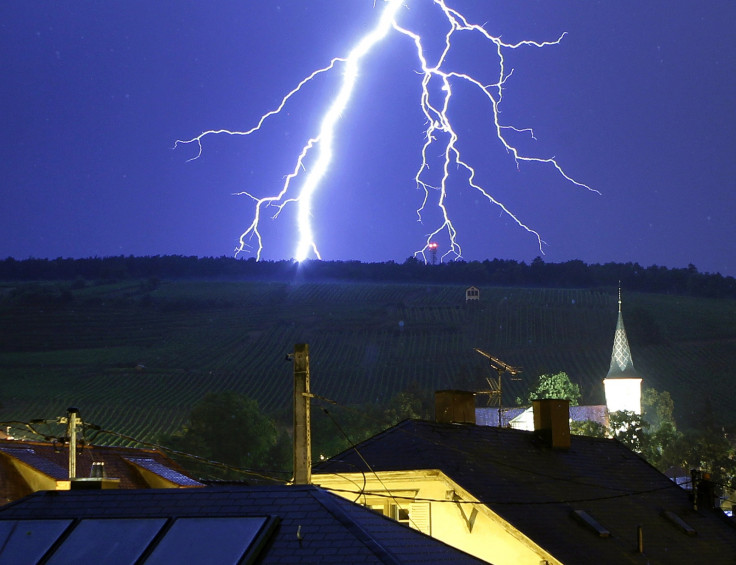 Thousands of teenage scouts and adult guides have been evacuated from a camp in eastern France after a violent storm struck the area.
Around 15,000 youngsters, mostly aged between 14-17 and from across Europe, were taken to a nearby theatre for shelter, according to organisers.
Some of the youngsters suffered "sprains, strains and dislocations" during the evacuation near the French city of Strasbourg, but no significant injuries were reported, according to L'Alsace.
Most of the injuries were caused by falling tent posts, but the main marquees did not collapse, one of the organisers said.
The children were moved to a nearby auditorium for the night and were provided with bedding, water and a light snack and a hot breakfast in the morning.
"There was no panic as we had been warned about the storm's arrival half an hour before," organisers said, adding that the scouts and guides were able to return to their tents later Saturday morning.
Pictures on social media showed serious damage to the camp, while scouts, some in blankets, were seen holding hands as they were led to shelter.
Good scouting and good hunting to the 15000 brave and courageous scouts #YouReUp who are about to rebuild their site. pic.twitter.com/ofOPNru7xc

— Foday Mamoud Janneh (@FodayMamoud) July 18, 2015
#YouReUp: énorme orage sur Strasbourg, camp dévasté, les 15.000 @piocara passent la nuit au Zénith! @sgdf pic.twitter.com/febwK2UZw8

— Aude Bariéty (@AudeBariety) July 18, 2015
Il est 14h30 à Strasbourg, les villages de #YouReUp sont déjà reconstruits et les duvets sèchent tranquillement. pic.twitter.com/tyhwbTQHqE

— LaToileScoute (@LaToileScoute) July 18, 2015
On Friday, authorities issued an alert around 2am (1am BST) warning of a severe storm and strong winds in the French city on the border with Germany.
The teenagers were allowed to return to the site to help rebuild the camp on Saturday morning, with scouting activities due to resume on Sunday.
France's scout and guide vice-president Marie Abrassart shared images of the scouts returning to camp on Twitter.
Équipes de service et de commission au top! Esprit scout quand tu nous tiens..MERCI! #YouReUp#toujoursprêt pic.twitter.com/Vj813HDOWU

— marie abrassart (@MAbrassart) July 18, 2015