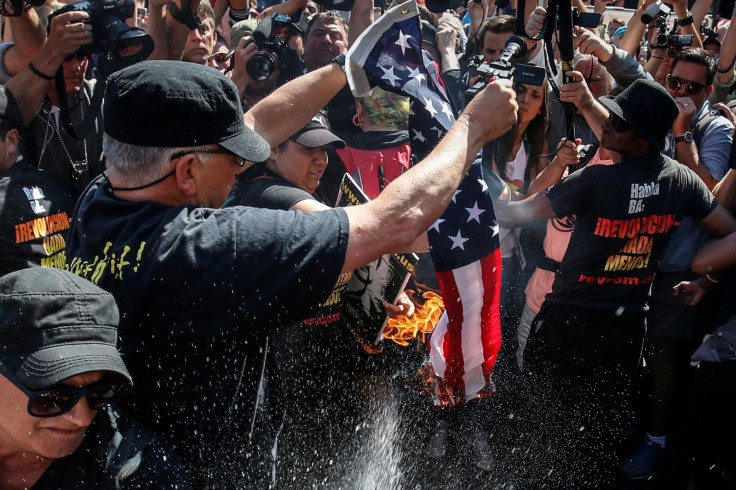 Cleveland police arrested 18 people in a flag-burning protest in the most heated confrontation to date outside the Republican National Convention on Wednesday 20 July..
Two officers received minor injuries as 200 police descended on a small band of protesters lighting an American flag. Officers and medics with fire extinguishers stood by a block away ready to move in.
At least one protester was injured when his clothes caught fire, reported CBS.
"You're on fire! You're on fire, stupid," an officer yelled as the man who tried to start the flag blaze briefly set his trousers aflame. He was then arrested for assaulting an officer, after pushing away police who were trying to extinguish the flames, according to officials.
Other officers were punched and kicked. Those arrested faced charges of assault on a police officer, resisting arrest and failure to disperse. The police department pointed out that no members of the media were arrested.
The protesters were reportedly members or supporters of the Revolutionary Communist Party USA. Carl Dix, a representative of group, described the flag burning as a "political statement about the crimes of the American empire. There's nothing great about America."
Among those arrested was Gregory "Joey" Johnson, whose torching of the flag at a GOP convention three decades ago led to the landmark 1989 US Supreme Court decision that flag-burning is a right of free speech, protected by the First Amendment.
The Ohio chapter of the National Lawyers Guild was critical of the police actions, saying in a statement they are "highly concerned about these arrests and the escalation of police tactics against peaceful demonstrators."
Despite the new arrests, Police Chief Calvin Williams was still upbeat about the general order outside the convention.
"Right now, I think so far, so good," he said. "We're still out there, we're still vigilant, to make sure we finish this day and the last day tomorrow on a positive note."