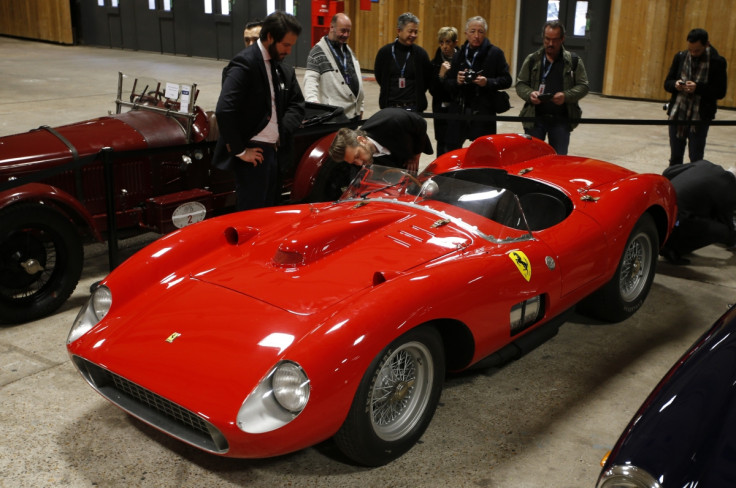 An unnamed US car enthusiast has paid €32m (£24.7m, $35.8m) for a red 1957 Ferrari 335 S Spider Scaglietti setting a new world record for a racing car – and he cannot even drive it on a road. The iconic vehicle was one of just four that were ever produced and set the new world record on Friday, eclipsing the previous record for a racing car which was a 1953 Mercedes W196 racing car driven by Juan Manuel Fangio, which sold for £17.5m in 2013.
The legendary 335, in the trademark Ferrari red, was capable of an eye-watering 186mph. It boasts a V12 engine and a maximum power of 390 HP at 7400rpm.
The cars astronomical price tag is because of its impeccable provenance as the choice motor of some of the greatest British racers of the golden age of motor racing. It was first driven by British racer Peter Collins and his French partner Maurice Trintignant in the 1957 Sebring 12 Hours.
It was runner-up in the Mille Miglia that May, driven by racing great, Wolfgang von Trips, who died racing in Monza four years later. British racer Mike Hawthorn, F1 champ in 1958, drove the car in the Le Mans 24 Hours, but the car broke down after 56 laps.
Perhaps Britain's most famous racing driver, Stirling Moss, won the Cuba Grand Prix in 1958 with the car, but since 1970 the powerful machine has been lying dormant as part of French collector Pierre Bardinon's collection of 50 factory Ferraris. The sale means that nine of the world's 10 most valuable cars sold at auction are Ferraris.
Rebecca Ruff of Artcurial said, according to the Telegraph: "It's an incredibly rare car with fantastic provenance and racing history. It's been part of a private collection for more than 40 years, so it's something that doesn't come up for sale. It was a very, very rare opportunity."
The 335S is purely a racing car and cannot be used the vehicle on the roads. The sale marks a surge in sales of high-priced Ferrari from the late 1950s and 1960s, which is seen as the golden age of motor racing.