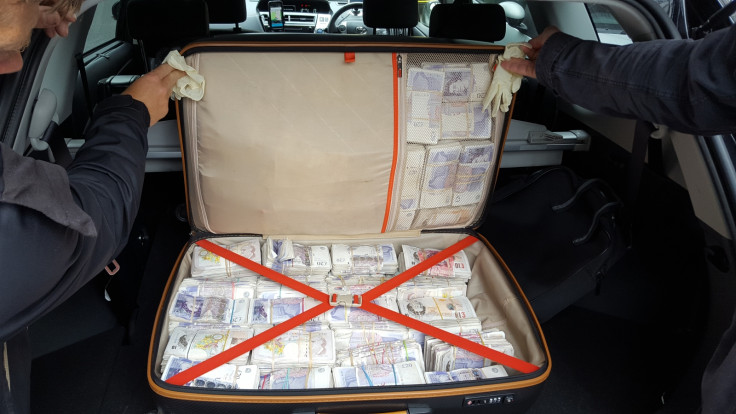 The Met Police seized a record £73m (€86m, $92m) from criminals last year, including nearly £1m found in the back of black cab in east London.
Scotland Yard said the haul was the largest total seized in London in a single year since the Proceeds of Crime Act came into force in 2002.
The biggest single cash amount confiscated came in early 2016, when officers stopped a black cab in east London and found a large suitcase in the passenger compartment.
Inside were bundles of £20 and £10 notes amounting to £943,000 – thought to be cash being moved around the city by a criminal network.
Another case, the largest confiscation order issued last year, saw police seize £6,328,119 after two men were jailed for 18 years in 2015 for conspiring to run brothels and laundering the profits.
Ashley Sheldrick and Terrence Hart – former owners of Shoreditch nightclub East Village – raked in more than £12m in three years using chip-and-pin machines in brothels.
On Friday (24 February), the Met Police released pictures of some of the cash and assets seized by the force.
Funds forfeited and confiscated are paid to the Home Office, although Scotland Yard receives a percentage back through the Asset Recovery Incentivisation Scheme (ARIS). That money is then used to fund financial investigation teams and help target organised criminal gangs, police said.
The past five years have seen the force seize about £317m under the Proceeds of Crime Act, with just over £40m going back to the Met Police.
Commissioner Sir Bernard Hogan-Howe said: "The MPS (Met Police Service) is here to reduce crime and keep people safe. It's satisfying to see criminals pay back for the damage they cause communities through the assets we've recovered.
"The message is loud and clear, crime does not pay and criminals who think it does will have to deal with the full force of the MPS."
The record levels seized by Scotland Yard come as the government has been under pressure to improve its performance in confiscating criminal proceeds.
A parliamentary report by the home affairs select committee last year said less than 1% of the 640,000 people convicted of a crime in the UK in 2014/15 were subject to confiscation orders, with only 45% enforced.
Furthermore, as of September 2015, criminals owed a staggering £1.61bn in unpaid confiscation orders, with many organise crime bosses choosing to serve time in prison rather than pay back ill-gotten gains.
The committee's report – suggesting crime does pay – said a lack of training among police officers added to overall weakness in the criminal asset recovery system.