A member of the public came across an extraordinary discovery while out for a walk after stumbling across £50m ($62m) of cocaine washed up on a beach in Norfolk, police say.
Bricks of the suspected class A drug were found inside a number of holdalls on Hopton Beach near Great Yarmouth on Thursday (9 February).
Police say the next morning a small number of packages also thought to contain cocaine were discovered separately further up the coast at another beach near Caister.
The discoveries, said to total 360kg of cocaine, are being investigated by officers from the National Crime Agency (NCA).
Norfolk police have urged any members of the public who find more washed up packages to contact officers.
Matthew Rivers, from the NCA's border investigation team, said: "We are now working with Border Force, the Coastguard Agency and Norfolk Police to try and establish how the bags ended up where they did, however, it is extremely unlikely that this was their intended destination.
"This is obviously a substantial seizure of class A drugs, and its loss will represent a major blow to the organised criminals involved."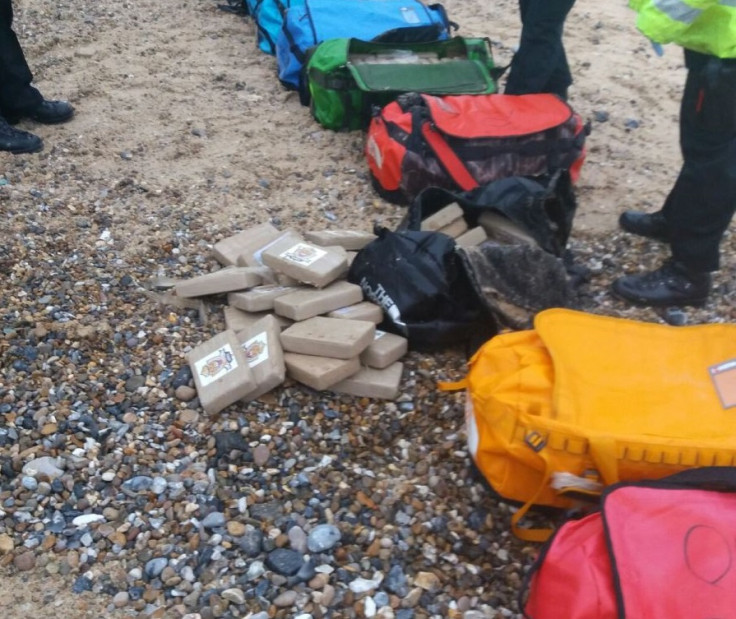 This is not the first time smugglers have seen their valuable shipment of drugs washed up on the shores of the UK and Ireland.
In October, a torpedo-like object containing more than £4m of cocaine was discovered on a beach in County Clare.
In 2008, Cornwall saw £7m of cocaine washed up on beaches over several weeks.
The UK's most valuable seizure of cocaine was ten-times the size of that seized this week in Norfolk. The haul, worth £512m, was found inside the ship MV Hamal about 100 miles off the coast of Aberdeen in April 2015.
It led to two Turkish men, Mumin Sahin and Emin Ozmen, being jailed for 20 years for smuggling the drugs.
Superintendent Dave Buckley, from Norfolk Constabulary, said of the Norfolk find: "We are assisting the National Crime Agency with their searches and whilst we believe we have recovered all the packages, should any member of the public find one they are urged to contact Norfolk Constabulary immediately on 101. We will have extra officers in the area to monitor the situation."
---
Anyone with information can contact Crimestoppers anonymously on 0800 555111.