2 Turkish men jailed for smuggling £512m of cocaine in tug boat in UK's largest drug seizure
Mumin Sahin, 47, and Emin Ozmen, 50, have been convicted of smuggling 3.2 tonnes of high purity cocaine.
Two men have been jailed for a total of 42 years after being convicted of smuggling 3.2 tonnes of high purity cocaine, with a street value of more than £512m, in the UK's largest ever drugs bust. On 12 August, Mumin Sahin, 47, and Emin Ozmen, 50, from Turkey, were jailed for 22 years and 20 years respectively after being found guilty last month.
The High Court in Glasgow found the pair guilty of smuggling and a separate charge of being concerned in the supply of the drug after their vessel, MV Hamal, was intercepted in the North Sea, 100 miles from Scottish coast.
The Tanzania-registered tug boat had travelled from Istanbul, via Tenerife, to South America before it was intercepted by the Royal Navy destroyer HMS Somerset and the Border Force cutter HMC Valiant east of Aberdeenshire on April 15 2015.
The duo's countrymen Kayacan Dalgakirin, 54, Mustafa Guven, 48, Umit Colakel, 29, Ibrahim Dag, 48, were all cleared after the jury returned 'not proven' verdicts during a trial. The condemned pair were thought to be under the instruction from drug lords organising the transfer of cocaine from South America.
At the High Court in Glasgow, judge Lord Kinclaven told Sahin: "Your role was a significant one, you were the master of the MV Hamal. You had been entrusted with a valuable asset and illicit cargo," according to the BBC. He also told Ozmen: "You too were playing an important role in a prohibited operation".
The National Crime Agency (NCA) said search crews discovered the drug haul when they pumped out the Hamal's ballast tanks and drilled through one of them. Cocaine was concealed inside neighbouring compartments buried underneath a cement floor.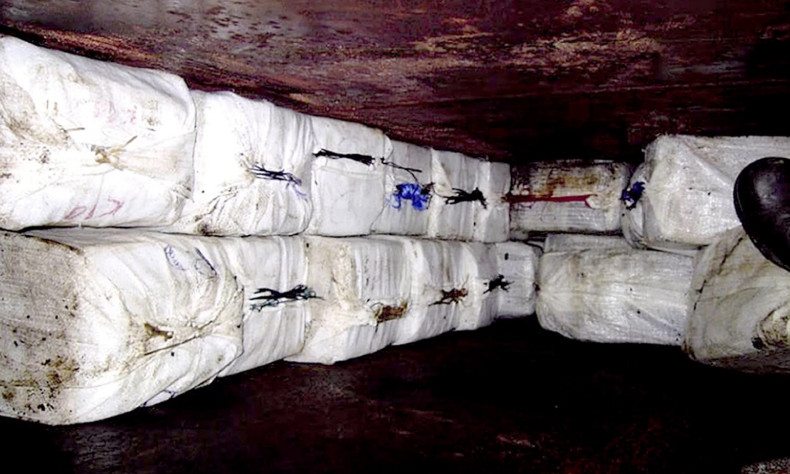 The two-day operation discovered 128 bales of cocaine which were removed, each weighing approximately 25kg with a purity level of between 58 and 74 per cent. It would likely have been cut three times over before being sold, meaning it had the potential to create almost ten tonnes of adulterated street level purity cocaine, valued at around £512m.
NCA senior investigating officer John McGowan said he thought it was the biggest maritime seizure of cocaine in Europe. "The court has clearly stated that you don't have to be a kingpin of an international drug smuggling operation to incur the wrath of the court.
"These gentlemen were carrying out a vital role in the transportation of a large quantity of drugs. Without their skill set supplying that role of transport, international drug smuggling and trafficking could not take place," he added.
David Harvie, of the Crown Office, said after the sentencing: "The Hamal was identified after an intelligence tip-off from French authorities, and swift co-operation from the Attorney General in Tanzania where the ship was registered allowed it to be boarded.
"Our investigation then stretched from Guyana, who provided access to crucial shipping records, to Spain, who gave us crucial information on the ship's stop-offs in the Canary Islands. We also worked with colleagues in Denmark, Norway and the United States to piece specific elements of the evidence together."