Two men have been convicted of smuggling 3.2 tonnes of high purity cocaine with a street value of more than half a billion pounds on Monday 11 July. Mumin Sahin, 47, and Emin Ozmen, 50, from Turkey, were found guilty in the High Court in Glasgow of smuggling and a separate charge of being concerned in the supply of the drug.
Fellow countrymen Kayacan Dalgakirin, 54, Mustafa Guven, 48, Umit Colakel, 29, Ibrahim Dag, 48, were cleared after the jury returned 'not proven' verdicts.
The cocaine was found hidden on board the flagged Tanzanian vessel MV Hamal, which was intercepted by the Royal Navy destroyer HMS Somerset and the Border Force cutter HMC Valiant in the North Sea, about 100 miles (160km) east of Aberdeenshire on April 15 2015.
Before being intercepted in the North Sea, the boat had travelled from Istanbul, via Tenerife, to South America.
The National Crime Agency (NCA) said search crews pumped out the Hamal's ballast tanks and came across the cocaine when they drilled through one of the tanks. Cocaine was concealed inside neighbouring compartments as well as a tank underneath a cement floor.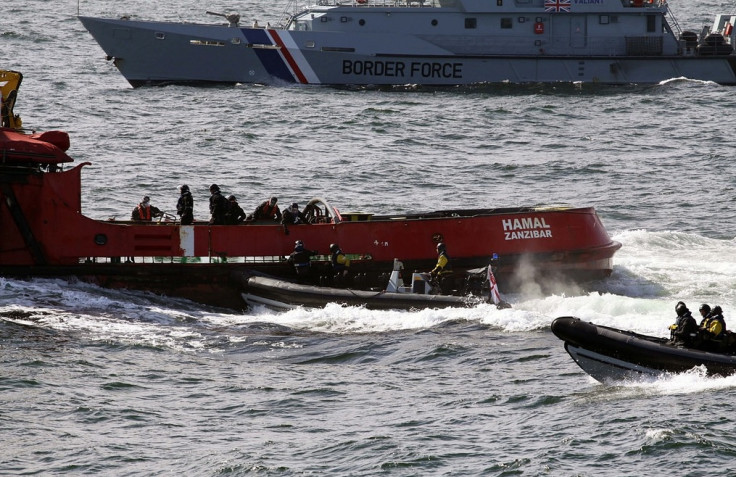 In a painstaking operation that took nearly three days, 128 bales of cocaine were removed, each weighing approximately 25kg with a purity level of between 58 and 74 per cent. It would likely have been cut three times over before being sold, meaning it had the potential to create almost ten tonnes of adulterated street level purity cocaine, valued at around £512m.
NCA senior investigating officer John McGowan said he thought it was the biggest maritime seizure of cocaine in Europe.
"While we suspect that the end destination for this load would have initially been mainland Europe, there is no doubt, given the size of the seizure, that a good percentage would have ended up being sold in the UK and fuelling further criminality," he said, according to the BBC.