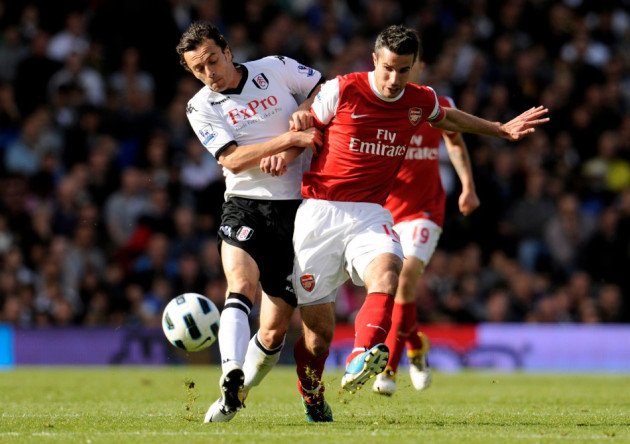 The pick of today's Premier League, Serie A, La Liga and Bundesliga football transfer rumours, news and gossip for 26 September, 2011. All the latest transfer rumours surrounding Manchester United, Chelsea, Arsenal, Liverpool, Tottenham Hotspur, Manchester City, Bayern Munich, AC Milan, Inter Milan, Juventus, Roma, Barcelona and Real Madrid will be covered here.
Today's transfer gunk is overly concerned with goings on at the Emirates.
Gunners striker Robin van Persie has warned Arsenal he is not ready to sign a new deal amid concerns at the direction the club is heading.
"I still have almost two years until 2013. So for the moment that's fine, but I don't know. We still have to look. I'm happy with my contract, I'm good. That's how it is, I can't say much more. I can't look into the future.
"The main thing for me is the team and that we play well," the Arsenal captain added. "I do believe you have to look for a right moment to sit down and speak about your own stuff. It's not only about me, it's about the team."
However, boss Arsene Wenger is confident the Dutchman is going nowhere, dismissing speculation the striker is set to follow Cesc Fabregas and Samir Nasri out the Emirates door.
"It's true that we had a meeting during the summer," Wenger said. "If you're in Robin's place and you see Nasri going, Fabregas going, then you can be worried of course."
Meanwhile, Arsenal have opened negotiations with Valencia over signing midfielder Daniel Parejo in January, with club representatives spotted in Spain on Thursday and Friday to meet the 22-year-old's agent.
Wenger is also interested in Spurs midfielder Rafael Van Der Vaart, with reports in recent weeks suggesting that the 28-year-old is unsettled at White Hart Lane. File under 'unlikely'.
Across town, Frank Lampard's Chelsea career remains in doubt after he appeared to "storm off" following Andre Villas-Boas' decision to drop him from Saturday's match with Swansea.
"I don't know but this is nothing to speculate about," Villas-Boas said.
"The players just want the team to perform and Frank is like that. He's a magnificent player and soon he'll be back into the team, sooner than you expect."
Spurs manager Harry Redknapp has been told to stump up £15m if he hopes to sign Athletic Bilbao midfielder Ander Herrera in January. The Metro reports that Bilbao are willing to listen to offers for Hererra, who impressed as part of Spain's Under-21 side at this summer's European Championships.
Perennial transfer hit monkey Carlos Tevez is "determined" to leave Manchester City in January, after his latest snub against Everton.
City boss Roberto Mancini left his erstwhile captain on the bench again on Saturday, for their 2-0 win over the Toffees.
And a "source" close to the forward told The People: "Carlos is very disappointed with the way things have turned out.
"He came back to England committed to giving everything for the team, but he has not been given a chance.
"Carlos was not the only high-profile Premier League player to have been involved in a summer dispute with his club. Others, like Luka Modric at Spurs, emerged from those problems with their status enhanced, but Carlos finds himself out in the cold. He feels his only option could be to leave the club."