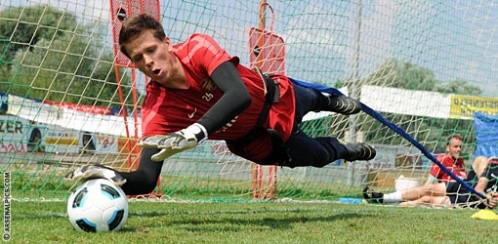 The pick of today's Premier League, Serie A, La Liga and Bundesliga football transfer rumours, news and gossip for 3 October, 2011. All the latest transfer rumours surrounding Manchester United, Chelsea, Arsenal, Liverpool, Tottenham Hotspur, Manchester City, Bayern Munich, AC Milan, Inter Milan, Juventus, Roma, Barcelona and Real Madrid will be covered here.
Today's transfer rumours are light on substance. There, best to get that bombshell off the bat in the opening sentence. The following six paragraphs will contain precisely zero attributable quotes, named sources, or accurate price tags gleaned, as they are, from the nether regions of the football transfer merry-go-round.
Start the car.
Spanish giants Real Madrid are considering an audacious "cash-plus-player" swap for Manchester City striker Carols Tevez, according to various sources. Tevez, who City manager Roberto Mancini has claimed is "finished" at the club, could be off to Madrid in exchange for defensive midfielder Sami Khedira and a small stipend.
On the Spanish coast, Valencia are "ready to re-ignite" their interest in out-of-favour Manchester United forward Dimitar Berbatov who was also the subject of interest from PSG.
In Barcelona, Pep Guardiola is reportedly keen on Arsenal keeper Wojciech Szczesny as he looks to identify a long-term replacement for Victor Valdes.
The Gunners have tied the youngster to a long-term contract that runs until 2013 but caughtoffside.com reckons that may not stop Barcelona from expressing their interest in Szczesny when January rolls round.
In London, Arsenal are reportedly preparing a January bid for Ajax pair Jan Vertonghen and Christian Eriksen as Arsene Wenger looks to bolster his squad after a wretched start to the Premier League season.