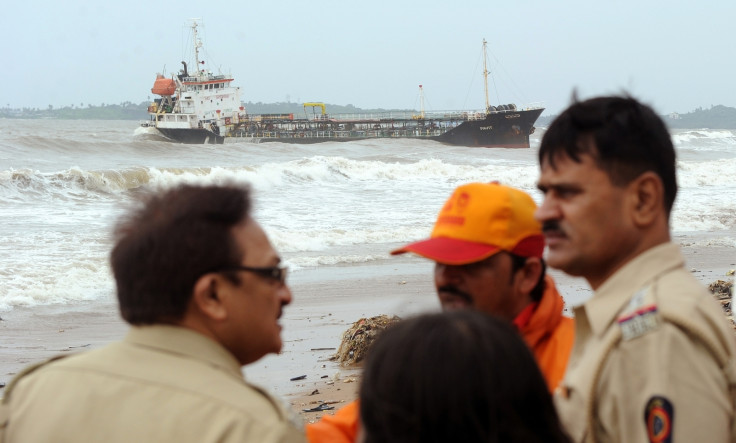 Four Ghana sailors who were left to survive on a stranded ship off India's Mumbai coast near Butcher Island for 66 months have finally been rescued and sent back home. During their five-and-a-half year enforced captivity, the men lived without electricity and on little water and food.
The sailors identified as Abakah Francis, 60, Issah Sawudu, 49, Idriss Mohammed, 48, and Mohammad Mustapha, 38, were on board the ship Magnum V, owned by a company based in Sierra Leone. The Sri Lanka-bound ship developed a snag during a storm before being stranded. Since then it remained close to the Mumbai coast.
The Indian Coast Guard tracked them down, arrested them and also seized their ship, but they were let off within three months in 2011 and remained forgotten. Initially, 19 crewmen were on board the vessel. Eventually, only these four men were left to handle the vessel that was stuck in the shallow waters, making it difficult to sail out.
Local fishermen and police patrol boats delivered food and water to them. The four seafarers complained that they did not receive any help from their ship owner. Nor were they paid salaries for most part of their ordeal, they claim.
"We did not abandon the ship because that's what we have been taught. In return for this loyalty, we were left to die," sailor Mustapha told the Mumbai Mirror. "There was no electricity on board and we have been surviving with meagre provision supply. There was no fresh water supply and we used the sea water for toiler and laundry purposes." The only saving grace was they did not contract any disease.
The men managed to contact the National Union of Seafarers of India (NUSI), through whom they filed a case in the Bombay High Court. The court issued a directive that all four be allowed to travel back home.
The sailors have also filed a case seeking to sell off their ship and the NUSI has initiated the process of selling it as scrap. The amount realised will be given to the four sailors to compensate for their outstanding salaries and dues, the Hindustan Times reported.