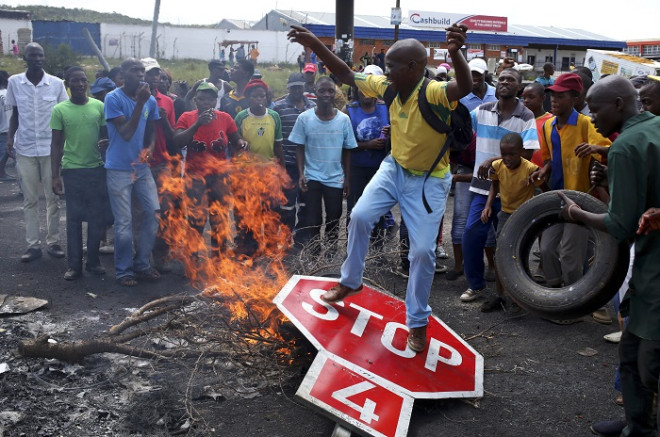 At least 59 people were arrested in a Johannesburg slum in South Africa following the ruling ANC government's victory on Thursday.
Spokesman Brigadier Neville Malila said police fired rubber bullets and used stun grenades to disperse demonstrators in the Alexandra township in Gauteng province on Friday, Reuters reported.
Protesters barricaded roads and burned tyres while the military was deployed to back up police as the situated escalated.
Army spokesman Brigadier General Xolani Mabanga said the military presence will remain in place "as long as required". The situation was said to be calm on Saturday morning, with no further incidents reported.
Malila said up to 400 people gathered outside a court in Alexandra on Friday to demand the release of more than 30 protesters arrested a day earlier after a local electoral commission office was set ablaze.
Violent protests, often over lack of access to running water or electricity, are common in South Africa's impoverished black townships, and popular discontent with the ruling ANC administration is rife.
The ANC won its fifth consecutive South African general election with a 62.2% share of the vote, results revealed on Friday. The figure was down from the 65.9% the ANC won in the 2009 election, but still guarantees controversial president Jacob Zuma a second five-year term.
The leading opposition party the Democratic Alliance, often criticised as a white-dominated reminder of the Apartheid era, claimed 22.2% of the vote - up from 16.6% in the last elections. The Economic Freedom Fighters, led by firebrand Julius Malema, came in third place with over 1 million votes (6.3%).
Malema, who was expelled from the ANC in 2012 after a making a series of highly publicised racist statements, appealed for calm in the aftermath of the protests.
"People in Alexandra, we call on you to accept defeat," he told a news conference. "Do it in a dignified manner. Don't put South Africa into ashes because of election outcome."