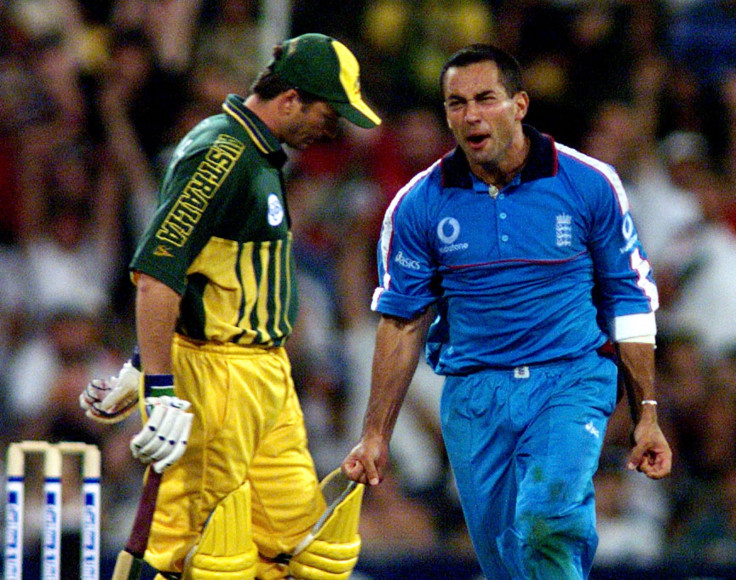 An elderly lady stole an antique cabinet from an ex-professional boxer, MMA fighter and England Test cricketer in Australia on Tuesday (2 May).
The unknown woman had arranged to buy the piece from Adam Hollioake, who fought professionally on a handful of occasions and played four Tests for England, on the Gumtree website.
Hollioake is best known for his contributions as a Surrey and England cricketer from 1992 to 2004, leading England to a one-day trophy and Surrey to the County Championship.
He turned to boxing and then MMA after retiring from cricket. The 45-year-old, now based on the Gold Coast, recounted the incident in a Facebook post.
He seemed more impressed by the woman's daring than anything else.
He said that after helping the accused – aged "about 70" – to put the cabinet into her car, she told him she had to fetch money from her glovebox. But she was lying. Before the athlete knew what had happened she had "floored it" and disappeared.
Hollioake says he was so overcome with amusement and admiration that he forgot to check her registration number.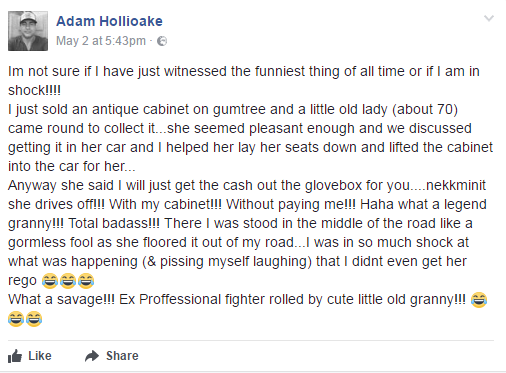 After an illustrious cricketing career in which he led Surrey to three English County Championships, Hollioake briefly turned to combat sports. He won his only professional boxing fight and was unbeaten in two professional MMA fights, winning one bout and drawing the other.
On 2 May, he wrote on Facebook: "I'm not sure if I have just witnessed the funniest thing of all time or if I am in shock!!!!
"I just sold an antique cabinet on gumtree and a little old lady (about 70) came round to collect it...she seemed pleasant enough and we discussed getting it in her car and I helped her lay her seats down and lifted the cabinet into the car for her...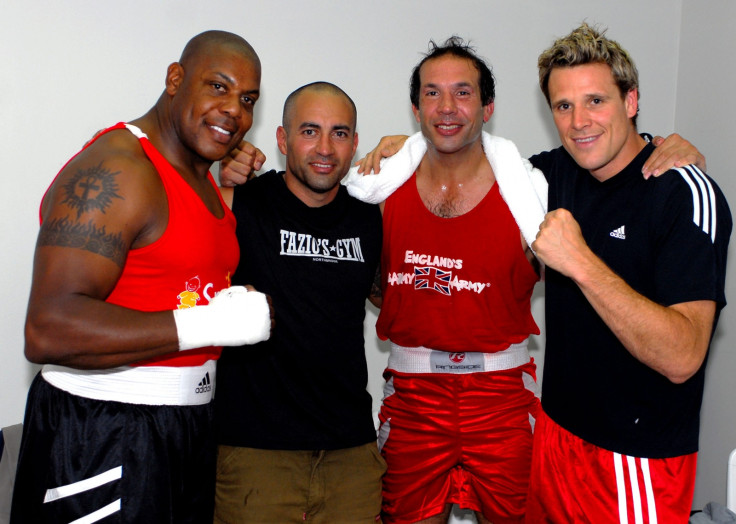 "Anyway she said I will just get the cash out the glovebox for you....nekkminit [next minute] she drives off!!! With my cabinet!!! Without paying me!!! Haha what a legend granny!!! Total badass!!! There I was stood in the middle of the road like a gormless fool as she floored it out of my road...
"I was in so much shock at what was happening (& pissing myself laughing) that I didn't even get her rego [registration number]. What a savage!!! Ex Proffessional [sic] fighter rolled by cute little old granny!!!"