A Florida police dog was found dead after being left by an officer in a patrol car in temperatures of 88F (31C) on Friday (28 April).
German Shepherd Diesel was left while his unidentified handler visited Brevard County Courthouse, Melbourne. There are unconfirmed reports he may have forgotten about the dog.
The dog – a member of the Sebastian Police Department K-9 Unit – was discovered dead at 7.30pm.
A criminal investigation has now been launched into his death.
"He found the dog deceased in his car. Right now it is a joint investigation. The officer is devastated...it's just awful," said Lt Cheryl Trainer, spokeswoman for the Melbourne Police Department.
She also told Florida Today: "There was no intent. But we have talked with the state attorney's office about the case."
Diesel's partner is reported to have been a member of Sebastian Police for 10 years. He was off-duty when he visited the courthouse and his intentions for doing so are unknown.
Diesel had been with the force for around a year. He was one of four German Shepherds in the K-9 unit.
"There's a close and unique bond between police officers and their canine partners and obviously this is a very unfortunate incident," John Blackledge, Commander of Operations for Sebastian Police Department told WFTV9.
"That equipment is designed to protect the animal as much as you possibly can. Right now that's part of the investigation and how it performed," he added.
Animal welfare charity PETA say that on a 78F day, the temperature in a closed car rockets to 120F in a few minutes and on a 90F day it can reach 160F in less than a ten minutes.
In October 2015, the charity produced research claiming that at least 19 US police dogs had died in hot cars over a two year period.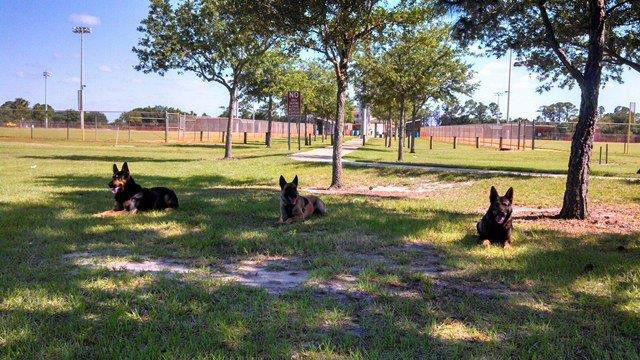 In a statement, Sebastian Police Department said: "As many of you have heard we suffered a tragic loss of one of our beloved K-9's on Friday April 28, 2017. The incident occurred in Melbourne Florida.
"The situation is being investigated by the Melbourne Police Department and when their investigation is over, an administrative investigation will occur here with the Sebastian Police Department.
"Our entire department is saddened by Diesel's tragic death; please keep us in your thoughts and prayers. More information will be released when available."