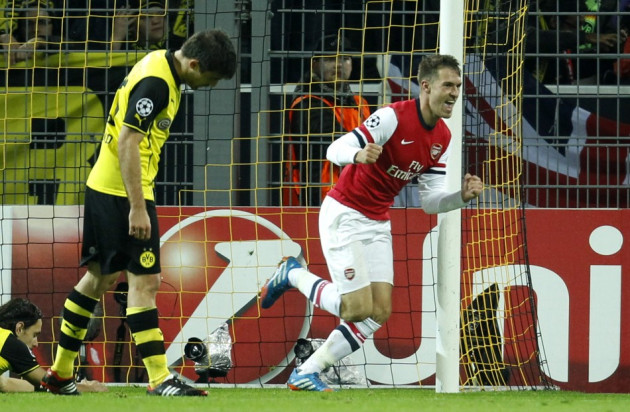 Former Arsenal striker Paul Marriner says Arsene Wenger's adoption of Chelsea manager Jose Mourinho's tactical approach in the Champions League inspired victory over Borussia Dortmund.
Aaron Ramsey scored the only goal with the Gunners' first shot at Westfalenstadion having soaked up ample first-half pressure from last season's Champions League runners-up.
After Arsenal secured their 14th away win in 15 games against Jurgan Klopp's men, Marriner has praised Wenger for perfecting the art of playing on the road in Europe by following the example set by Chelsea boss Mourinho.
"It was a true team performance," Marriner told talkSPORT. "Whatever Arsene Wenger and Steve Bould have said to the lads going into this game they played it to a tee. I think it was a sensational performance, absolutely classic.
"If you cast your mind back to when Mourinho won the Champions League, he soaked up pressure and then hit them on the break. We've been waiting for this period to come from Arsenal. They're answered every call."
A winner of two Champions League's in his managerial career, Mourinho is credited with being among the most tactically astute managers on the continent and with Chelsea on the brink of qualifying for the knock-out stage, he is repeating that trend upon his return to Stamford Bridge.
Mourinho first won the Champions League in 2004 with FC Porto before claiming his second title with Inter Milan as part of the first-ever Italian treble. Despite two semi-final appearances with Chelsea, Mourinho is missing a major European trophy from his managerial CV in west London.
For Arsenal, after wins over Liverpool and Dortmund, they face their third daunting challenge of the week on Sunday when they travel to Premier League champions Manchester United.
Despite suffering three early season defeats, David Moyes' side are unbeaten in their last eight games in all competitions and with Arsenal having not won at Old Trafford since 2006, Wenger's side face another acid test of their recent improvement.
But Marriner believes Arsenal are facing United are the ideal time.
"Manchester United have got problems," he added. "This is a great occasion for Arsenal to go up there and say 'we're here for the long haul, it's not just going to be a flash in the pan' and they can do that on Sunday.
"Manchester United, who thank goodness have got Rooney firing on all cylinders and, obviously they [Arsenal] have got to keep an eye on Robin van Persie, but apart from that there's not a lot going well for Man United at present moment."