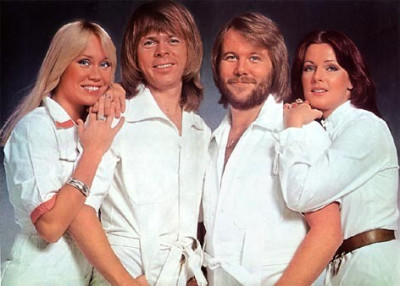 Abba's greatest hits album, Gold, has been crowned Britain's best-selling CD of all time.
The Swedish pop group's 1992 compilation, released 10 years after the group split, has sold four million copies in the CD format in the UK.
According to stats by the Official Charts Company and British Phonographic Industry (BPI) to celebrate the 30th anniversary of the compact disc, the musical Mamma Mia!, based on the band's string of international hits, helped boost album sales.
Abba, who made the big time after winning the Eurovision Song Contest with Waterloo in 1974, have sold more than 200 million records worldwide.
Adele's award-winning 21, which features hits including Someone Like You and Rolling in the Deep, has sold 3.5 million since January 2011.
Oasis's 1995 LP What's the Story Morning Glory came third after shifting 3.4m copies and Amy Winehouse's Back to Black took fourth place with 3.225 million units.
Other UK stars to make the coveted list include James Blunt, Robbie Williams, Coldplay and Leona Lewis.
Coldplay and Robbie Williams are the only two artists to have more than one album in the top 30.
Chis Martin and company made the list with Parachutes, A Rush Of Blood To The Head and X&Y, while Williams made a strong showing with I've Been Expecting You, Sing When You're Winning, and Greatest Hits.
"Even 30 years after its launch, it still remains the leading album format in the British music market," said BPI CEO Geoff Taylor of CDs.
"The CD represented a great leap forward in sound technology, becoming one of the most successful consumer products in history as music fans embraced its sound quality, durability, instant track access and ease of use."
The top 30 bestsellers:
1. Gold: Greatest Hits - Abba (1992) - 4.04m
2. 21 - Adele (2011) - 3.55m
3. What's The Story Morning Glory - Oasis (1995) - 3.43m
4. Back To Black - Amy Winehouse (2006) - 3.23m
5. Back To Bedlam - James Blunt (2004) - 3.21m
6. No Angel - Dido (2000) - 3.03m
7. Come On Over - Shania Twain (1997) - 3.03m
8. Spirit - Leona Lewis (2007) - 2.95m
9. Urban Hymns - The Verve (1997) - 2.9m
10. White Ladder - David Gray (2000) - 2.88m
11. Life For Rent - Dido (2003) - 2.86m
12. 1 (one) - The Beatles (2000) - 2.85m
13. A Rush of Blood to the Head - Coldplay (2000) - 2.76m
14. Beautiful World - Take That (2006) - 2.74m
15. Hopes and Fears - Keane (2007) - 2.73m
16. Crazy Love - Michael Buble (2009) - 2.73m
17. Scissor Sisters - Scissor Sisters (2004) - 2.71m
18. Talk on Corners - The Corrs (1997) - 2.65m
19. X&Y - Coldplay (2005) - 2.61m
20. The Man Who - Travis (1999) - 2.55m
21. Parachutes - Coldplay (2000) - 2.48m
22. The Fame - Lady Gaga (2009) - 2.48m
23. Come Away With Me - Norah Jones (2002) - 2.47m
24. Only by the Night - Kings of Leon (2008) - 2.4m
25. I've Been Expecting You - Robbie Williams (1998) - 2.38m
26. Greatest Hits - Robbie Williams (2004) - 2.27m
27. Swing When You're Winning - Robbie Williams (2001) - 2.32m
28. The Marshall Mathers LP - Eminem (2000) - 2.23m
29. Eyes Open - Snow Patrol (2006) - 2.22m
30. Ladies & Gentlemen: The Best Of... - George Michael (1998) - 2.2m