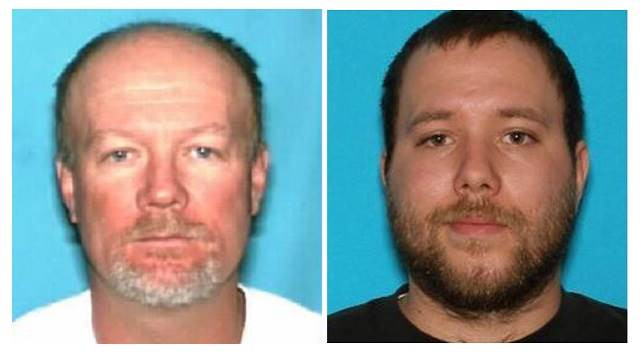 Father and son kidnappers took on more than they bargained for when a mother and her four daughters that the pair snatched freed themselves, with one of the daughters beating the younger man before fleeing, according to police.
Dereck James "DJ" Harrison, 22, was arrested shortly after his father, Flint Wayne Harrison, 51, turned himself in to authorities in Wyoming, where the men fled after the mother and daughters were kidnapped in Utah, said law enforcement authorities.
The Harrisons allegedly lured the mother, whom police did not identify, and her daughters, aged between 13 to 18, to a Utah home for a barbecue on Tuesday, 10 May. There, the men allegedly tied them up with wire and duct tape in the basement and assaulted the mother, plus some of the girls, with a baseball bat as they battled to break free, according to police in Centerville, north of Salt Lake City.
In the struggle that followed, one of the girls slapped away a shotgun pointed at her throat, and another grabbed the bat and struck the son, police told CBS News. When the women finally managed to break free, they ran from the house while screaming for help, and the suspects fled.
The panicked victims raced to a neighbour's house for help. "They just said that they had been held hostage and tied up," the neighbour said. "The older lady, she had blood on the side of her face above her eye."
The girls and their mother were on his front lawn when police arrived.
The mother and one of the daughters were treated at a local hospital for their injuries.
Officials said the men falsely believed the mother had turned them in to police for using methamphetamine. The kidnappers were apparently high on meth during the attack, said authorities.
"The motive appears to be retaliation on the mother," said Lt. Von Steenblik during a press briefing.
The mother "took a baseball bat to the ribs and was punched in the stomach and was also hit over the head with the baseball bat," he said. "This was obviously a premeditated event. They had this room setup with zip ties or wire ties."
Before he was busted, the younger Harrison was located on a campsite in Pinedale, Wyoming, armed with two knives, two rifles and several magazines of ammo, according to authorities. The entire campsite was evacuated and the people of Pinedale were ordered to stay indoors. Harrison junior was arrested a short time later, without incident, late on Saturday (14 May) whilst walking down a nearby road, said police.
"This is an incredible end to a very stressful day," Sheriff Stephen Haskell said in a statement. "It was a very good end to something that could have gone very badly."
Both the father — who is a registered sex offender — and son are likely to be extradited to Utah to face felony kidnapping and assault charges, according to the Sublette County Sheriff's Office in Wyoming.