Abercrombie & Fitch have pulled a controversial line of t-shirts poking fun at Taylor Swift after facing a backlash from the pop star's fans.
The 23-year-old Love Story hitmaker has been the subject of cruel jibes in recent months following a string of failed romances with the likes of John Mayer, Jake Gyllenhaal, Joe Jonas and Harry Styles.
She has also received a lot a bad press for using her breakups as inspiration and writing music about her exes.
The tongue-in-cheek t-shirt created by designers at the chain made reference to her busy - yet hitherto unsuccessful - dating life.
Swift has not commented on the Abercombie & Fitch t-shirt line. However a group of her followers, known as 'Swifties', launched a petition on Change.org insisting the message was cruel and inappropriate.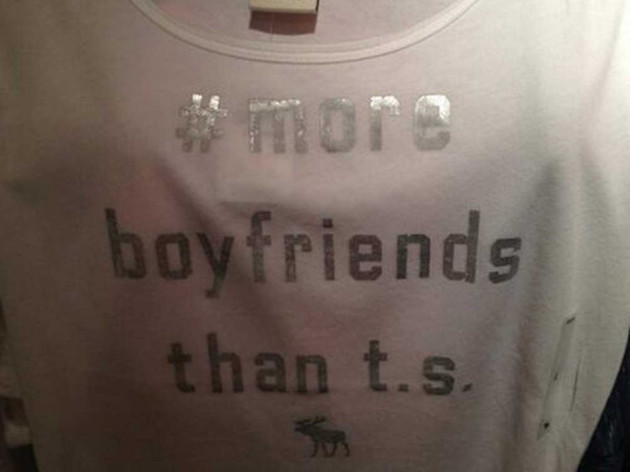 Emma Worley, the fan who launched the petition which amassed 86 signatures, branded the t-shirts hurtful.
"Because it's hurtful to Taylor Swift and Swifties everywhere!" read a description on the petition.
In response, bosses at the American retailer halted production of the tops, which were emblazoned with the message 'More boyfriends than T.S', and issued a public apology.
"Hey swifties, we no longer sell the tshirt. We... (love) Taylor's music and think she's awesome!" Abercrombie & Fitch said in its statement.