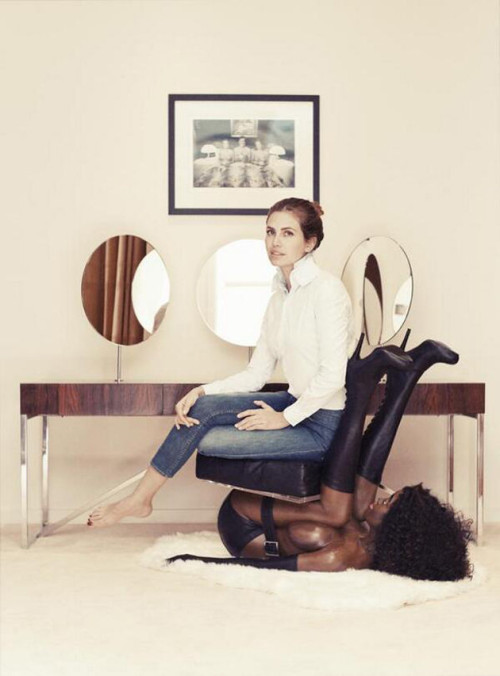 The partner of Russian billionaire Roman Abramovich is at the centre of a racism row after a photograph of her sitting on a mannequin of a half-naked black woman emerged online.
Dasha Zhukova provoked outrage after the controversial image of her barefoot and wearing a crisp white shirt and blue jeans while perched on the unusual furniture, was published on a Russian fashion blog on Martin Luther King Day.
Buro 24/7 had used the picture of Zhukova to accompany an interview with the former model about her new magazine fashion Garage. The insensitive photo was also posted on Instagram by the blog's editor, Miroslava Duma.
The image was quickly met with a barrage of complaints from the online community, with viewers slamming it as "sick" and "awful, racist misogyny."
Some Twitter users accused the blog's editors and Zhukova of being particular insensitive and disrespectful to Martin Luther King's legacy. People across the world were remembering the Civil Rights movement and civil icons campaign for racial equality.
Woman rights group, 'Organizing for Women's Liberation' branded the image "incredibly racist."
FashionBombDaily.com editor Claire Sulmers insisted that the photo's message was startlingly clear: "White dominance and superiority, articulated in a seemingly serene yet overtly degrading way."
"The art and fashion industries are the few bastions of society where blatant racism and ignorance are given the greenlight in the name of creativity," she said in a post on her blog.
Zhukova, who has two children with Chelsea owner Abramovich, has not commented on the backlash.