The convicted acid attacker Arthur Collins is likely to spend even more time behind bars after admitting to smuggling a mobile phone into prison to call his then pregnant ex-girlfriend Ferne McCann.
The 25-year-old, who is serving a 20-year sentence for an attack at an East London nightclub, had smuggled a mobile phone, two sim cards and two USB sticks inside a crutch at HMP Thameside while on remand.
He pleaded guilty to possession of prohibited items while appearing at Bromley Magistrates' Court via video link from prison on Wednesday (27 December).
The court heard how the "accomplished and calculating liar" wanted to use the phone to contact McCann, his ex-TOWIE star girlfriend who had been pregnant with their daughter at the time.
The items were found during a search of his cell, the court heard.
Collins, of Broxbourne, Hertfordshire, could now face two further years in prison on the top of his already lengthy sentence.
He was jailed last week for 20 years after indiscriminately squirting acid in the crowded Mangle E8 nightclub in Dalston, injuring 22 people. The attack in April came after he got into a fight with a group of men.
Handing him the longest sentence ever given for an acid attack, Judge Noel Lucas QC branded Collins a "calculating liar" who had committed a "despicable act".
He added that Collins had not "demonstrated the slightest remorse" for his actions.
His victims were said to have been left with permanent scars with at least one still suffering blurred vision.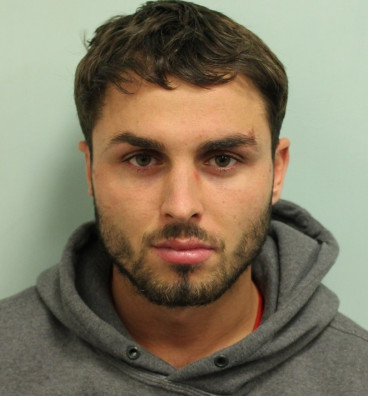 Phoebe Giorgiu, who suffered burns on her chest and arms, said her mental health had suffered as a result of the attack.
"The thoughts that filled my mind were suicidal," she had told the court. "Do I want to carry on knowing what's underneath my bandages?"
Another victim, Sophie Hall, 22, broke down in tears as she recalled her experiences of the night.
"I knew my face was a mess because I could feel it in my hands," she said. "It was blistered."
Collins, who had been at the nightclub celebrating news that McCann was pregnant with his daughter, had admitted throwing the liquid but claimed he didn't know it was acid.
He told his trial at Wood Green Crown Court he thought it was a date rape drug he had snatched off two men after hearing their plan to spike a girl's drink.
But jurors found him guilty of grievous bodily harm with intent and actual bodily harm.
He had been on crutches for months after breaking both ankles jumping from a window when police arrested him in April.
A prison officer found the smuggled phone inside Collins' crutch on 10 September after removing the rubber stopper at the bottom, The Sun reported.