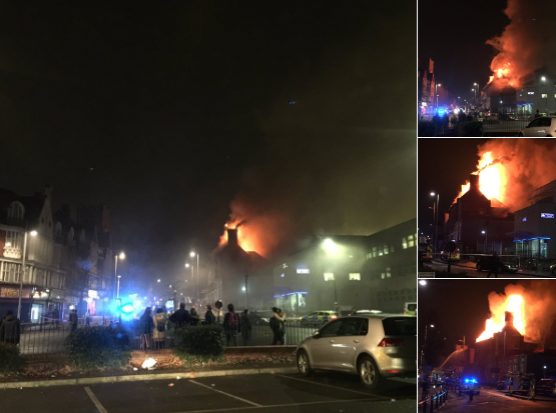 A pub in London caught fire 30 minutes into the New Year, causing hundreds of people to be evacuated, some of them from the roof.
Revellers seeing in 2017 at the Aeronaut in Acton, west London were enjoying a live musical performance when the blaze struck. Five people were reportedly taken to hospital with minor injuries.
The Metropolitan Police have said they do not believe the cause of the fire to be suspicious.
A special "Circus Spectacular" event had been taking place at the popular venue. Musician Matt Blair, performing as part of double-act Rayguns Look Real Enough, was rescued from the roof of the building by London Fire Brigade.
He tweeted: "We're fine but 2017 has already got off to a bad start. One of our favourite venues that we just played burned down. Everyone is fine. We were upstairs, had to get on a roof area and luckily found a ladder we could climb down. Scary stuff."
A spokesman for London Fire Brigade said: "Ten fire engines and 72 firefighters and officers were called to a fire at a pub on the High Street in Acton. Some 340 people and 12 staff evacuated the pub before the Brigade arrived. Six people were rescued from the first floor via a short external ladder.
"Half of the ground floor of the building was alight. The first and second floors, including the roof of the three storey building, have been gutted by the fire. The Brigade was called at 12.36am and was over by 0442. Fire crews from Acton, Chiswick, Park Royal, Hammersmith, Richmond, Willesden, North Kensington and Wembley are at the scene."