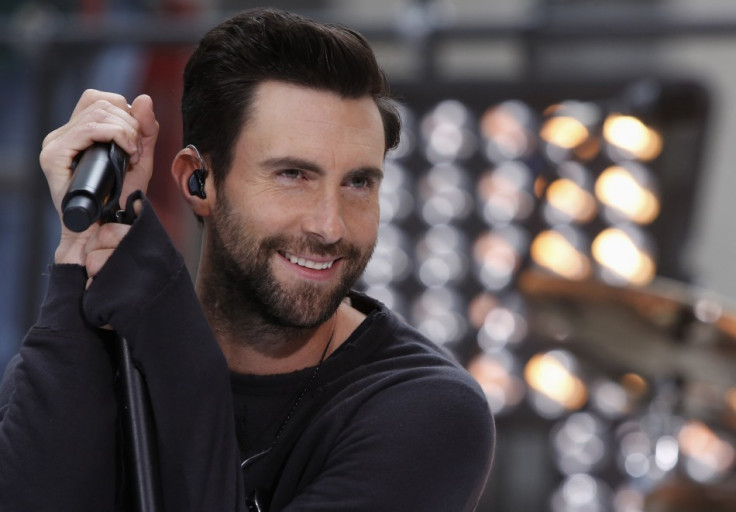 Adam Levine's latest single may be called Sugar but that doesn't mean he necessarily wants to be covered in it!
Maroon 5's lead singer had powdered sugar thrown all over him as he was arriving at the Hollywood Studio where he was heading to film a music set for Jimmy Kimmel Live on 6 May.
The pop-rock artist was arriving to perform with his band on the late night talk show, where they were intending to showcase their newest track and had stopped to sign autographs and meet waiting fans who had been queueing up outside of the building, when the prankster launched the substance directly at Levine. It appears to be a direct hit and the sugar went all over his cardigan and left him with a face completely white on one side.
After he was hit, he reportedly crouched down to avoid being struck again. Although some onlookers on social media thought the stunt had something to do with the show, judging by the grumpy look on Levine's face, he was not expecting the attack. Security took down the sugar-hurler almost immediately which also indicates it was probably not planned by the studio.
According to TMZ, the suspect was apprehended immediately by Levine's entourage and later arrested by police on charges of battery.
The reason for the attack is unknown. It may have been intended as some sort of protest towards the 36-year-old or just an inoffensive joke in association with his new song. Several people on Twitter suggested the latter.
The lyrics could certainly correspond to the crowd member's "trick" ("Your sugar. Yes, please. Won't you come and put it down on me?") but it's evident from Levine's face that he didn't see the funny side.