A toddler who professed her love for Maroon 5 singer Adam Levine in a video that went viral, has finally met her 'boyfriend.' The news that Adam Levine had recently got married left three-year-old Mila in tears.
Her heartbreaking reaction was filmed by her mother as, hearing the news the toddler shouts: "'No! No, he didn't Mommy." The adorable video titled 'Mila finds out Adam Levine Got Married', was watched by 5 million people.
Mila was later invited on The Ellen Show, where she professed her love for the Maroon 5 front man. She told show host Ellen DeGeneres that she had wanted to marry Levine 'for a long time' and that he was 'her boyfriend' and that she 'loves him'. The toddler appeared to still be in denial that he had tied the knot.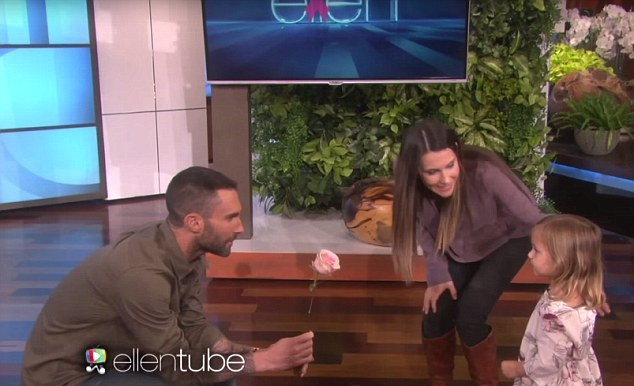 Acknowledging that Mila was truly in love with the singer Ellen surprised her with an 'I love Adam Levine' outfit. However, as she explained, she had a second surprise that couldn't fit in the bag. It was then that Levine himself appeared in person to surprise the toddler. Just like the perfect boyfriend, he presented her with a rose and lifted her in the air for a hug.
Speaking about the video, Levine said: "It was kind of heartbreaking. It was so unbelievably cute. And every single person that I know - in my entire life - sent it to me. The first two people were my wife - sorry, earmuffs," he said "and then my mother. They were like "This is so cute"!"
Mila was however unable to speak in the presence of her true love and overcome with shyness she clung onto her mother. "Clearly she's transfixed," Adam joked, while Ellen pointed out that it was "a lot to meet the love of your life all of a sudden". "She's over it," Levine joked.
Levine, who was voted the sexiest man alive, married Brazilian model Behati Prinsloo at Flora's Field Kitchen at Flora Farm, where they got married last July.