Aerosmith could be closing the curtains with the band's frontman Steven Tyler revealing they could embark on a "farewell tour" in 2017. Reflecting on their astonishing 46-year career, Tyler says he is grateful for the band's success but says it is "probably" time that they retire.
The rock band, which also consists of Brad Whitford, Tom Hamilton, Joey Kramer and Joe Perry, are currently on a hiatus while Tyler works on his solo country album. Confirming the bittersweet tour news, Tyler told Rolling Stone: "I'm doing 30 shows from May until August, then in 2017 we go out with Aerosmith.
"We're probably doing a farewell tour. There's two bands that still have the original members – us and the [Rolling] Stones. I'm grateful for that. Whether we do a farewell tour or go into the studio and do another record, I'm just excited about it."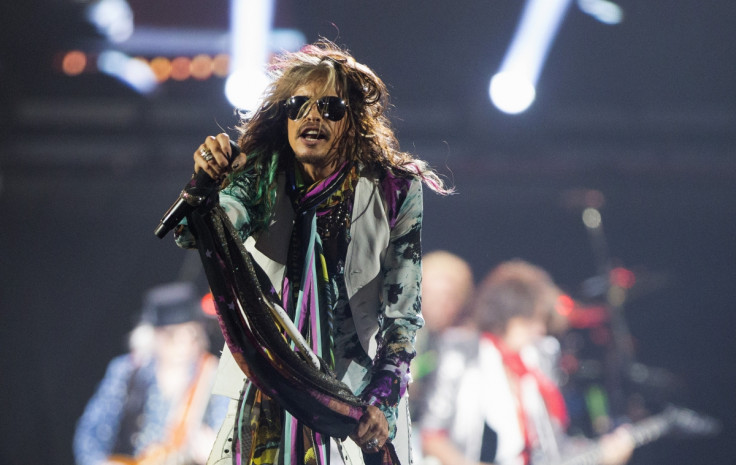 Aerosmith, whose last live performance took place in Moscow on 15 September 2015, released their most recent studio album Music From Another Dimension! in 2012, which peaked at number five on the US Billboard 200 chart. Their 2015 Blue Army tour spanned 18 dates across North America and they also toured the previous year on their Let Rock Rule jaunt. Both were brief stints in comparison to the Global Warming tour, which played out for 77 dates across two years and visited Europe, Australia and Asia.
Whitford has also hinted at Aerosmith's retirement plans during his appearance on Eddie Trunk's podcast in December 2015, telling the host: "We are actually talking about that – about actually putting together a sort of wind-down tour, which we would call the Farewell Tour. I guess it's just because of our age. You know, something's gonna happen. It's just inevitable that somebody's not gonna be able to do it anymore. So it would be very nice to take a nice long bow and say thank you and... put it to bed kind of gracefully."
Aerosmith have released 15 studio albums across their career, including the chart-topping Get A Grip and Nine Lives. They are best known for the hit singles I Don't Wanna Miss A Thing, Walk This Way, Dream On, Sweet Emotion and Living On The Edge. As one of the best rock bands in history, Aerosmith have sold more than 150 million records worldwide and were inducted into the Rock And Roll Hall Of Fame in 2001.
Listen to Steven Tyler's country song Red, White And You: