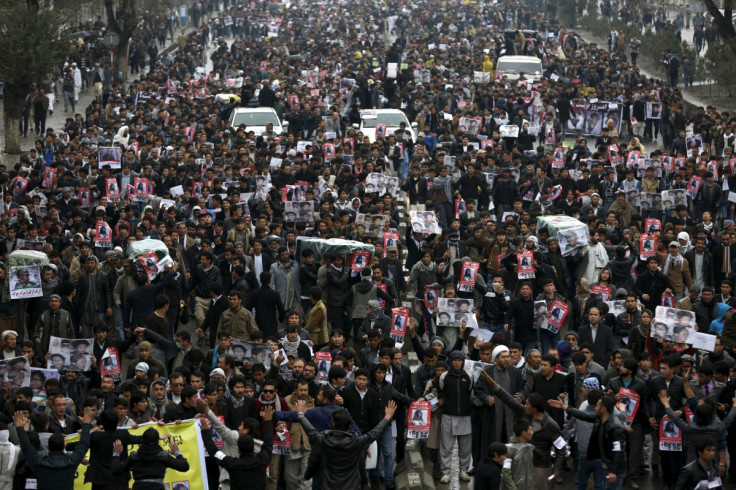 Afghan President Ashraf Ghani, who faces increasing pressure from the ethnic Hazara minority over recent beheadings, has pledged to step up security measures in the wake of simmering protests. Ghani, along with Afghan CEO Abdullah Abdullah, held late night talks with representatives of the protesters.
Talks were broadcast live in an unprecedented move as the campaigners were given airtime to express their grievances. Discussions are being held after thousands of protesters marched through the Afghan capital, Kabul braving persistent rain.
The demonstrators were carrying coffins of seven beheaded Hazara hostages – three of them women – who were executed by Islamist militants. The protesters demanded better security arrangements from the government as they say the administration failed to provide enough protection to minority groups.
In his televised remarks, Ghani promised: "I reiterate that we shall revenge the blood of our brothers and sisters from the Taliban, Daesh [Islamic State] and other groups. We are all extremely pained by the horrific crime of Zabul. This is the act of our enemies. We will have reprisal. Must stay united, not divided."
Ghani added: "Afghanistan has been through several phases of war and every day security force members sacrifice their lives for the country. All of Afghanistan is in mourning today. Government's promises are not mere lip service."
The victims were kidnapped in October when travelling between Zabul and Ghazni. The hostages were then decapitated by IS-linked members on 8 November. Improved security measures on highways are one of the demands of the protesters.
A protester named Mujtaba Amiri who took part in the marches told Pajhwok Afghan News: "We are here to raise our voice for justice. The government should respond to the killing of civilians by Daesh and Taliban militants."
At least 20,000 people turned up in Kabul to join in the protests – a massive number by Afghan standards in recent years. Most of the rallies remained peaceful, nonetheless, some young protesters resorted to violence smashing windows of state buildings as the swelling crowd was marching towards the presidential palace. Security forces fired warning shots to disperse the crowd.