A powerful earthquake in north-eastern Afghanistan has shaken buildings in Kabul and been felt as far away as the Indian capital of New Delhi. The US Geological Survey said the 6.3-magnitude earthquake was centered 511km (318 miles) from the Afghan capital near the town of Fayzabad, at a depth of more than 200km.
The earthquake struck at 11.14pm local time (7.14pm GMT) on 25 December. There were no immediate reports of damage or casualties in the vicinity but more than 30 people were hurt in the Pakistani city of Peshawar as houses and walls collapsed.
The Associated Press news agency reported that a total of 41 people were taken to hospitals in the city.
In the Indian capital of New Delhi, people rushed out of their homes as tremors shook the city at 12.44am local time, according to the Press Trust of India. Tremors were also felt in the state of Jammu and Kashmir and other parts of northern India.
Frequent earthquakes
Pakistan disaster management authority head Hamid Nawaz told the Associated Press (AP) that some old houses and walls had collapsed in Peshawar. In the capital, Islamabad, some residents reportedly rushed out of their homes when they felt the tremors and remained outside in the chilly weather in fear of possible aftershocks.
Earthquakes in the Himalaya region result from the collision of the India and Eurasia tectonic plates, which are moving towards each other at a rate of 4-5cm per year. The US Geological Survey classifies the region as "one of the most seismically hazardous regions on Earth".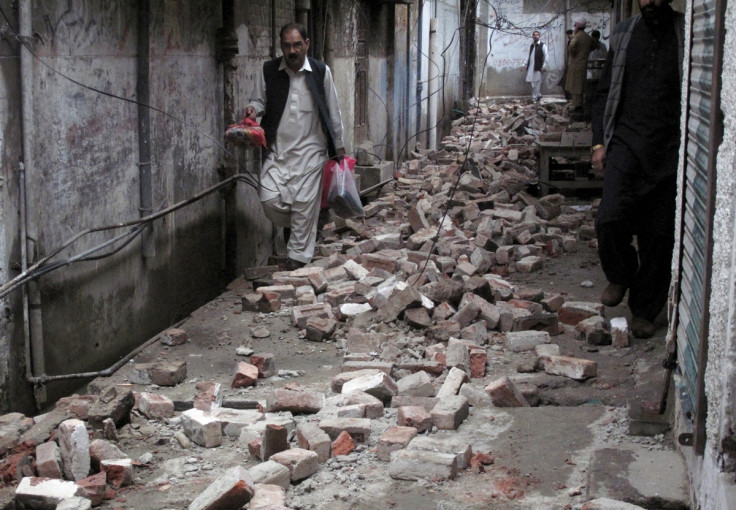 In October, more than 300 people were killed in Afghanistan and Pakistan when a 7.5-magnitude earthquake struck the north east region of the Hindu Kush mountain range.
More than 9,000 people died and 23,000 others were injured in Nepal when a powerful earthquake struck the Himalayan country on 25 April. Hundreds of thousands of people were left without homes as entire villages were flattened.
A major aftershock in the same area in May killed more than 200 people and injured 2,500.