At least 10 people have been killed and over 20 injured in a suicide bomb attack in the Afghan capital Kabul.
The blast occurred on Saturday after a suicide bomber detonated a car packed with explosives in west Kabul, near a compound where Afghan elders are scheduled take part in a loya jirga grand assembly next week to discuss a security pact with the US.
Interior ministry spokesman Sediq Sediqqi said the attack, which occurred less than 100m from the tent where the pact will be discussed, resulted in both civilian and military casualties.
Police said the attacker crashed a vehicle filled with explosives into an Afghan army vehicle when soldiers opened fire after identifying it as a threat.
One eyewitness called Nasrullah said: "I heard a big bang near the Jirga site. Later, I saw ambulances carrying people in blood. I saw at least three wounded in army uniforms."
The explosion came just hours after Afghan president Hamid Karzai announced the completion of the final draft of the proposed agreement with the US, which will allow American troops to remain in Afghanistan after the final withdrawal of international combat troops at the end of 2014.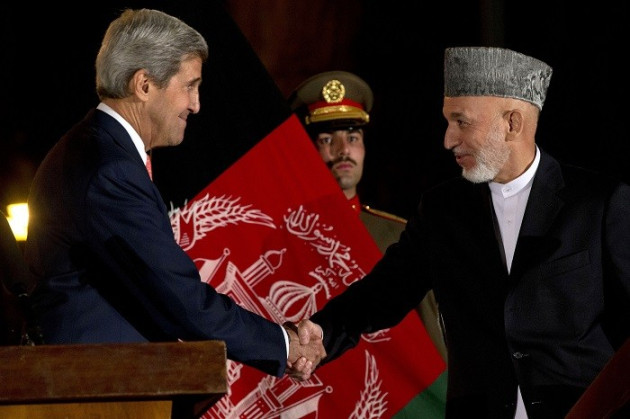 Karzai also called on the Taliban and their allies to join the discussions on the security pact.
"We invite them, please come to this national jirga of Afghanistan, raise your voice, raise your objection, and share your views," he said.
Around 2,500 tribal and civic leaders are expected to meet on Thursday to decide whether to accept the draft Bilateral Security Agreement between Afghanistan and the US.
The pact covers a number of issues, including whether US military personnel will enjoy immunity from prosecution in Afghanistan. The security agreement must get approval from both the parliament and the Loya Jirga before it can be enforced.
The draft pact was put together in Kabul last month during a visit by US Secretary of State John Kerry.
If the agreement is sanctioned by both the parliament and the Loya Jirga, between 5,000 and 10,000 US troops will stay on in Afghanistan after 2014 to train the national Afghan army and help fight remaining al-Qaida insurgents.