After 30 years Nintendo finally fixed a typo in The Legend of Zelda
The Old Man's hint still makes no sense, but at least the spelling is correct.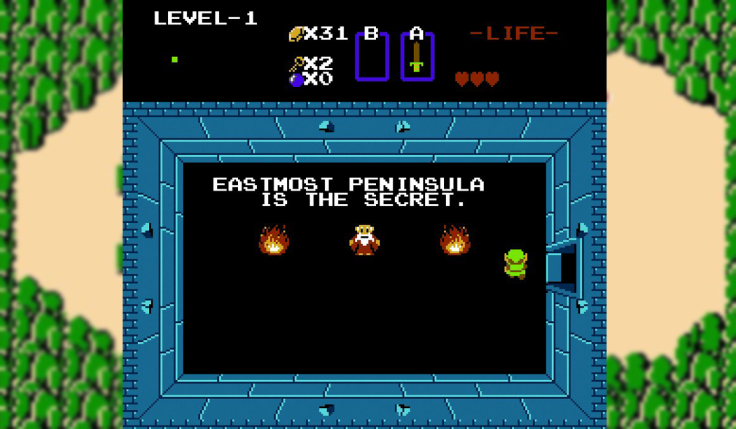 For nearly three whole decades grammar purists playing the English-language version of Nintendo's seminal NES adventure The Legend of Zelda have been bugged by a glaring typo in the largely text-free game.
In the latest version of the acclaimed classic however, Nintendo finally decided to address the typo players encounter during one of the instances in which they happen across the game's famously cryptic Old Man.
The character, who early on in the game grants players a sword – "It's dangerous to go it alone! Take this" – drops a hint intended to guide the player to a location on the map: "Eastmost penninsula is the secret".
In the version of the game packed in with Nintendo's plug-and-play NES Classic last year, the video game giant finally updated the game and fixed the word "peninsula," removing the extra "N".
The NES Classic was released months back, but it was only spotted recently by Clyde Mandelin, who shared his finding on Twitter. Mandelin is something of an expert on the subject, having written Legends of Localisation Book 1: The Legend of Zelda.
As he alludes to, Nintendo has had ample opportunity to address the problem in versions of the game for Wii, 3DS and Wii U Virtual Consoles, as well as the Legend of Zelda Collector's Edition for GameCube.
The typo was the result of some lax localisation of the game which also affected the general grammar beyond the spelling and in turn its meaning and how players interpret the hint.
Most agree it refers to the location of the first piece of the Triforce within the dungeon you find the old man. However, others say it refers to a location found in the game's overworld, in the North East corner, where Link can play the Money Making Game. It's not entirely clear.
In the original Japanese version of the game, the Old Man says something entirely different: "You can't use arrows if you run out of money."
For all the latest video game news follow us on Twitter @IBTGamesUK.
© Copyright IBTimes 2023. All rights reserved.