Overwatch fans are obsessed with Doomfist, an almost mythical presence in Blizzard's hit online shooter for PS4, Xbox One and PC. The character, who has been around as long as the game itself, is widely expected to one day join its roster of playable heroes.
Speaking to IBTimes UK in London ahead of the Bafta Video Game Awards on Thursday (6 April), Kaplan sat down to discuss the game and his team's plans for it. The full interview will be published on 5 April.
"Doomfist has been one of the most interesting characters that we've introduced to the game because he literally was introduced on day one when we did our announcement trailer [below]," Kaplan explained.
"The whole impetus behind that conflict that happened in the museum was around Doomfist's gauntlet, so he was immediately in the psyche of Overwatch players. We've done a relatively good job of not hyping Doomfist, the community has very much hyped Doomfist and obviously Orisa's storyline is very tied in to Doomfist. So we have a big plan.
Fans have expected Doomfist to be added to the game each time a new hero has been teased. Ahead of the announcement of the game's 24th hero, many were assuming rather than hoping this would be the case. They were wrong.
Hero 24 was announced as Orisa, an android created from the remnants of a Doomfist attack on the fictional African city of Numbani by a young, local engineering genius called Efi Oladele. Orisa was built to protect Efi's home.
Ahead of Orisa's announcement the game's Numbani map was updated. It previously featured Doomfist's gauntlet as the object two teams compete for control of. The update to the public test server showed that Doomfist's gauntlet had been stolen after Doomfist's attack.
"I think we've shown through the Numbani map, through the announcement trailer and through Orisa's launch that there is a plan for Doomfist we're just not necessarily rushing along that plan I think as fast as the community would like," Kaplan said.
Posters of Doomfist exist on the Numbani map and reveal the name is a moniker that has previously been held by at least two others, known as The Saviour and The Sourge. A third Doomfist shrouded in shadow, is called The Successor.
Interest in the character hit a peak when actor and PC gamer Terry Crews entertained the idea of voicing the character after meeting Blizzard due to his son's own love of Overwatch. Whether or not he will play the character remains to be seen.
Overwatch was named our game of the year for 2016 and was one of the biggest hits of last year. As of January the game hit 25 million active players.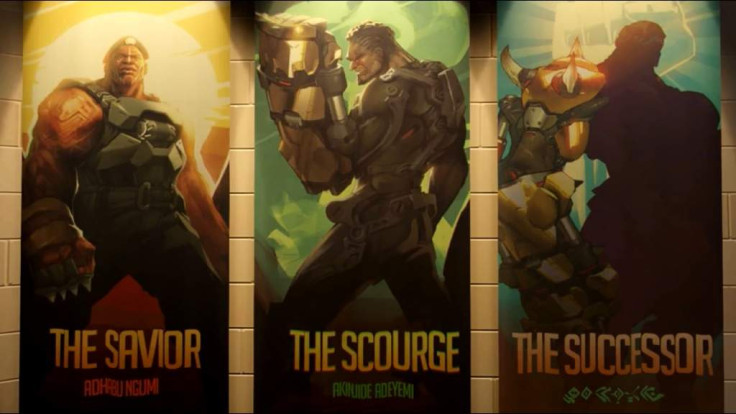 For all the latest video game news follow us on Twitter @IBTGamesUK.